FREE Daily Stock Alerts From Stock-PR.com

NTAP, NetApp, Inc.
** On its second quarter fiscal 2013, NTAP posted revenues of $1.541 billion, compared to $1.507 billion in the same period the prior year, and GAAP net income was $110 million, or $0.30 per share, compared to GAAP net income of $166 million, or $0.44 per share for the same period a year ago.
NTAP estimates revenue for the third quarter of fiscal year 2013 to be in the range of $1.575 billion to $1.675 billion.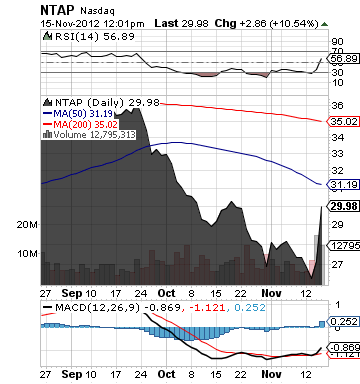 NTAP creates innovative storage and data management solutions that deliver outstanding cost efficiency and accelerate business breakthroughs.
More about NTAP at www.netapp.com.
**************************************************************
Read Full Disclaimer at http://stock-pr.com/disclaimer
stock-pr.com/22036/stock-alerts/netapp-n.../
Disclosure: I have no positions in any stocks mentioned, and no plans to initiate any positions within the next 72 hours.