FREE Daily Stock Alerts From Stock-PR.com

BYD, Boyd Gaming Corporation
** BYD reported that the Kansas Racing and Gaming Commission has approved BYD 's proposed acquisition of Peninsula Gaming, LLC.
BYD has now received all required regulatory approvals required to proceed with the acquisition. The transaction is expected to close on November 20, 2012.
According to the company, the acquisition of Peninsula Gaming will strengthen BYD financially by diversifying its operations, nearly doubling its free cash flow and delivering substantial value for its shareholders.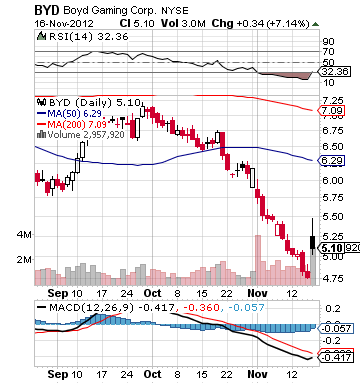 BYD is a leading diversified owner and operator of 17 gaming entertainment properties located in Nevada, New Jersey, Mississippi, Illinois, Indiana, and Louisiana.
More about BYD at www.boydgaming.com.
*******

Advertising is the branch of marketing that deals with communicating to customers about products, brands, services and companies. The Internet, as a global communications medium, provides advertisers with unique and often cost-effective ways of reaching advertising audiences.
Crown Equity Holdings Inc., (OTCPK:CRWE) offers advertising branding and marketing services as a worldwide online multi-media publisher with its digital network of websites and focuses on the distribution of information for the purpose of bringing together a targeted audience and the advertisers that want to reach them.
CRWE's advertising services cover and connect a range of marketing specialties, as well as provide search engine optimization for clients interested in online media awareness.

CRWE's division CRWE AD-Services (www.crwe-adservices.com), is a full service multimedia advertising company specializing in internet marketing. It provides modern and unique advertising campaigns, dedicated to offering the most cost effective advertising solutions.
More about CRWE at www.crownequityholdings.com.
**************************************************************
Read Full Disclaimer at http://stock-pr.com/disclaimer
stock-pr.com/22038/stock-alerts/boyd-gam.../
Disclosure: I have no positions in any stocks mentioned, and no plans to initiate any positions within the next 72 hours.