FREE Daily Stock Alerts From Stock-PR.com

GALT, Galectin Therapeutics, Inc.
** GALT reported that it has received a notice of allowance from the U.S. Patent and Trademark Office for a divisional patent of Patent Number 8,236,780 "Galactose-prolonged polysaccharides in a formulation for antifibrotic therapies".
The patent covers key methods of derivation and use for the Company's galactomannan-based carbohydrate galectin inhibitor compounds, for use in patients with chronic liver disease associated with the development of fibrosis, established liver fibrosis or end-stage scarring, or cirrhosis.
Fibrotic disease of the liver is highly prevalent in the population because all chronic liver diseases, including viral hepatitis, fatty liver and alcohol abuse, result in fibrosis of the liver for which there are no currently approved pharmaceutical therapies.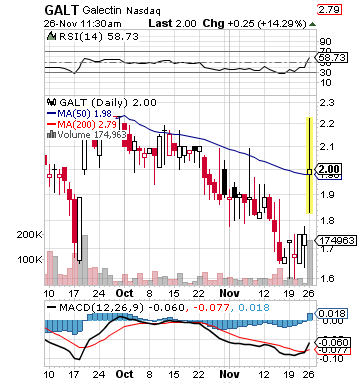 GALT is developing promising carbohydrate-based therapies for the treatment of fibrotic liver disease and cancer based on the Company's unique understanding of galectin proteins, key mediators of biologic function.
More about GALT at www.galectintherapeutics.com.
**************************************************************
Read Full Disclaimer at http://stock-pr.com/disclaimer
stock-pr.com/22047/stock-alerts/galectin.../
Disclosure: I have no positions in any stocks mentioned, and no plans to initiate any positions within the next 72 hours.