FREE Daily Stock Alerts From Stock-PR.com

ACAD, ACADIA Pharmaceuticals Inc.
** ACAD reported successful top-line results from its pivotal Phase III trial evaluating the efficacy, tolerability and safety of pimavanserin in patients with Parkinson's disease psychosis (NASDAQ:PDP).
Pimavanserin is ACAD's proprietary, non-dopaminergic product candidate that selectively blocks serotonin 5-HT2A receptors.
Pimavanserin met the primary endpoint in the Phase III trial by demonstrating highly significant antipsychotic efficacy as measured using the 9-item SAPS-PD scale (p=0.001). Pimavanserin also met the key secondary endpoint for motoric tolerability as measured using Parts II and III of the Unified Parkinson's Disease Rating Scale, or UPDRS. These results were further supported by a highly significant improvement in the secondary efficacy measure, the Clinical Global Impression Improvement, or CGI-I, scale (p=0.001).
In addition, clinical benefits were observed in all exploratory efficacy measures with significant improvements in nighttime sleep, daytime wakefulness and caregiver burden. Consistent with previous studies, pimavanserin was safe and well tolerated in this Phase III trial.
According to the National Parkinson's Foundation, about one million people in the United States and from four to six million people worldwide suffer from Parkinson's disease. Parkinson's disease psychosis, or PDP, is a debilitating disorder that develops in up to 60 percent of patients with Parkinson's disease.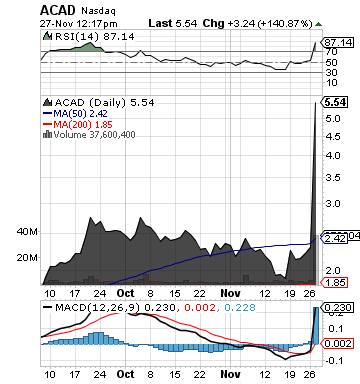 ACAD is a biopharmaceutical company focused on innovative treatments that address unmet medical needs in neurological and related central nervous system disorders.
More about ACAD at www.acadia-pharm.com
**************************************************************
Read Full Disclaimer at http://stock-pr.com/disclaimer
stock-pr.com/22048/stock-alerts/acadia-p.../
Disclosure: I have no positions in any stocks mentioned, and no plans to initiate any positions within the next 72 hours.