By IBISWorld Research Editor Lindsay Holloway

The recent dip in gold prices reinforces IBISWorld long-standing forecast that the commodity has reached the end of its 10-year bull run. Since 2001, the world price of gold has been growing at an average annual rate of 16.1%, with significant hikes in the years since 2006. In 2010, however, the trend finally topped out, reaching a yearly peak of $1,225.46 per troy ounce. Over 2011, IBISWorld estimates that the price will fall 1.3% to $1,209.78, with most of the reduction occurring this summer and the price hovering at about $1,150 per troy ounce by year-end.
"Short-term upswings like those that have occurred recently are expected during the year," explains IBISWorld industry analyst Brian Bueno, referencing conflicts in the Middle East and Northern Africa as causes for the price surges in gold and oil. "Prices fluctuate every day just like stocks do, but our forecast focuses on average yearly prices." He actually expects prices to remain high for a few weeks as current events play out—gold is currently selling just below $1,500 per troy ounce. IBISWorld's overall price drop is based on the assumption that major conflict will not spill over into Saudi Arabia or other major oil producing regions.
While IBISWorld stands by its bearish projection, most other industry forecasts expect the bull run to continue as tensions in the Middle East unfold and the economy improves at a slower rate than anticipated—or even heads back into recession. Many other economic indicators point strongly to a reversal in gold's price trend, though, Bueno says. "Major indicators have assured investors that economic growth is accelerating."
Political and economic unrest drive prices up

After decades of miniscule change, the price of gold has been heading upward at a steady clip since 2001. In fact, the price began increasing at rates in the double-digits in 2002 and intensified in 2006. Many factors have been at play, supporting the consistent growth over the decade. As a result of this growth, revenue for the
Gold and Silver Ore Mining industry
(NAICS 21222) has grown at a record pace of 18.0% per year from 2005 to 2010, despite severely low levels of industry production over the past two decades.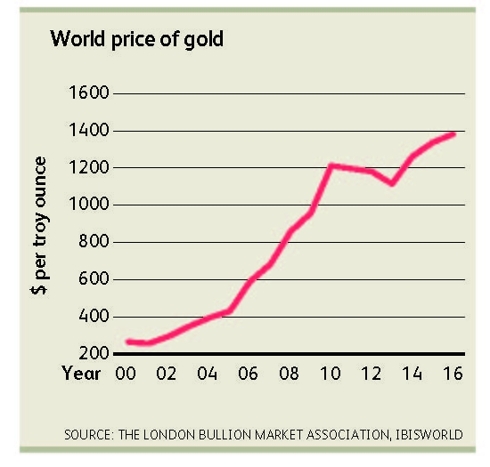 Click to enlarge
Following the terrorist attacks in 2001 and the resulting unrest in Afghanistan and Iraq, the price of gold started its climb. As a hard asset, gold is seen as a safe haven during times of political, geopolitical and economic instability. So as fears formed and escalated, investors started moving their money to gold. Then, as the recession began to set in over 2006, with the housing market and stock market crashes, investors flocked toward gold at an even faster rate. From 2005 to 2006, the world price of gold jumped a whopping 35.9%, from about $445 per troy ounce to nearly $605.
In line with its perceived safety, gold is also regarded as a hedge against inflation. Because rising commodity prices before and after the recession incited fears of inflation, investment demand for gold grew. "Measures to combat the recession and ensuing economic slump, such as the Economic Stimulus Acts of 2008 and 2009, also sparked concerns over government debt, inflation and currency devaluation," Bueno says. "So people invested in gold as a way to protect their money."
Although global jewelry production makes up nearly 60.0% of the demand for gold, it is the investment market (driven by gold's safe and inflation-hedging characteristics) that have influenced prices the most. The rising price of gold has actually dampened overall jewelry demand. Global jewelry production's share of gold demand is down from 80.1% in 2001, representing an average annualized fall of 4.3% from 2000 to 2010. In effect, revenue for the
Jewelry Manufacturing industry
(NAICS 33991) declined at an average rate of 5.8% per year from 2005 to 2010.
Investment demand for gold, on the other hand, currently occupies a 37.0% share, up from only 9.5% in 2001. Over the 10 years to 2010, investment demand grew an estimated 23.2% per year, which is further evidence of investors' move toward gold during turbulent times. Bueno says, "It's this investor sentiment that has had the largest impact on rising gold prices."
Stock market rebounds, fears of inflation subside

Over 2011, IBISWorld forecasts the world price of gold to decline by 1.3% and the share of investment demand to fall 7.9%. Although the price jumped 26.1% from 2009 to 2010, the 10-year bull run has met its demise. IBISWorld estimates the price to decline through 2013, reaching about $1,128 per troy ounce on average over the year. As was characteristic of the growth years, the trend's reversal is due to various factors. 
One of the strongest indicators of decline is the rebounding stock market following the recession. The bull run in equities, which started in March 2009, is continuing its third year and is expected to mark another strong year, according to IBISWorld. US and European markets are performing strongly, which is easing investor concerns. "With such positive activity, fears of another stock market collapse are largely gone," Bueno explains. "So investors who rushed to gold as a store of value will move to equity positions and stocks."
In fact, some investors are already taking profit by selling off gold assets and moving into riskier assets. Global investment in exchange-traded funds (ETFs) and similar products fell 45.0% in 2010, and it has been declining since the third quarter of the year. The prospect of lower gold prices will spur additional sales of gold ETF shares, resulting in further price drops and profit taking by those who made other gold investments (e.g. coins and bars as well as silver).
As the United States continues along the recovery and growth paths, monetary policies will ease and interest rates will no longer be pressured down. In fact, fears of inflation caused by low interest rates and moves by the government to stimulate the economy, like the second round of quantitative easing (i.e. QE2) that was proposed in 2010, have largely subsided. As Bueno sees it, interest rates can only go up. He references recent rate increases in other countries as evidence: "Much of Asia is already raising rates; China just raised rates for the third time in four months as it tries to tackle inflation; and the European Union (NYSEARCA:
EU
) will also likely raise rates further down the track once countries like Portugal stabilize their financials and the economy grows." As a result of these rising interest rates, fears of inflation and a depreciating dollar will begin to dissolve and encourage investors away from gold. In fact, a recent appreciation of the US dollar against the euro has already led many investors to shed their gold holdings.
Economic recovery will turn prices around

Another indicator supporting IBISWorld's forecast decline in gold prices is the end of the recession. Although economic recovery has been slower than anticipated, certain drivers have returned to positive growth. Consumer confidence is currently at a three-year high, and consumer spending and industrial production have improved significantly. US GDP grew 2.7% in 2010 and is estimated to rise 2.3% in 2011.
In the housing market, home sales are up and new home construction has strengthened over the past three months; in January, housing starts rose 14.6%. Even though unemployment remains high, it has been on the decline. In fact, the unemployment rate fell to 8.9% in early 2011, and jobless claims hit a three-year low in February. With records dating back to 1967, when unemployment dropped 0.8 percentage points in two months, IBISWorld reports that the unemployment rate has never fallen as fast as it has in the past three months.
"Although there are some economic indicators that might point to a double dip, there are many others that suggest the opposite," Bueno says. "Those are the indicators we're basing our forecast on, and we don't expect a double dip at all."
Because long-term gold prices react to economic and market health, as these improve following the recent fluctuations, world gold prices will continue their overall downward trend. After all, the US dollar is still the world's currency. IBISWorld estimates that fears of continued collapse in currency and the economy will further dissolve over the next few years, helping push gold prices down through 2013 to about $1,128 per troy ounce.

Decline is certain, but it may be short lived

As demand for gold has grown in line with prices, operators in the Gold and Silver Ore Mining industry have attempted to boost production recently to take advantage of these high prices. Major industry players Barrick Gold Corp. and Kinross Gold are just two of the companies recording significant profit, even during periods of limited activity. Gold production has been falling at a rate of 2.4% per year since 2005, but—for the first time since 2000—production increased in 2010 to 230 metric tons.
As prices trend down through 2013, though, miners will likely scale back production and development because gold will become less profitable. Bueno expects producers to then enter contracts that will secure some demand for gold and keep prices low for a while. Although production activity went up in 2010, it was by a modest 3.0%, which is ultimately unsustainable for the level of demand expected in the next few years, he says. Demand from the jewelry market is forecast to eventually return at a slow rate and some wary investors will keep a share of their money in gold assets. By year-end 2013, IBISWorld expects demand to outstrip supply and put a floor under world gold prices. In the longer term, prices will trend back up, albeit at a much slower rate than in the past 10 years.
Although unlikely by IBISWorld's estimates, the recent price spikes could be indicative of the long-term trend. Bueno admits that the EU sovereign debt crisis remains a major issue—and a potential threat to his forecast decline in world gold prices. European investors are major influences on the price; they have many of the same fears US investors have about bailouts, low interest rates, inflation and deficits. With major economies in the EU running large deficits, investors fear that countries such as Portugal, Spain and Italy may default on their debt and require a bailout from other EU nations, he says.
Investment demand for gold in Europe has been trending down in recent years (with exception to the brief spike in 2010 during the Greek bailout), but another EU bailout could refuel fears of inflation and a weaker euro. Thus, European investors would likely move their money into gold and drive prices up. "It would most likely be a short-term spike," Bueno counters. "Like the resolution reached with Greece, the EU will bailout countries like Portugal in an effort to ensure debt default doesn't occur on a large scale. Furthermore, monetary measures to keep rates low will help ease concerns of inflation."