Given the unbelievable negativity in the gold equities space, I felt compelled to put together a short blurb on gold stocks, and where we might be in the cycle.
First, let's be clear... I agree with our friend Harris Kupperman when he says that "mining is a terrrible business." It's a God-awful business, for many, many reasons. BUT, it can also be a business where fabulous wealth is created.
I often mention the story of Diamond Fields Resources. I have very fond memories of this one - ah, if I only bought more (hindsight is better than 20/20!)
These guys were digging for diamonds and found nickel. Not as sexy, but it was a BIG nickel deposit. In short, I bought the stock at something like .50, watched it fall to .25 and then rode it to $40 and sold. I should have held a bit longer, as it got bought at $100 by Inco. Hey, I'll take .50 - $40 any day! For that ride I'd like to thank our friend Doug Casey!
It happens that way sometimes. For most however, their typical investment in gold stocks looks something like this: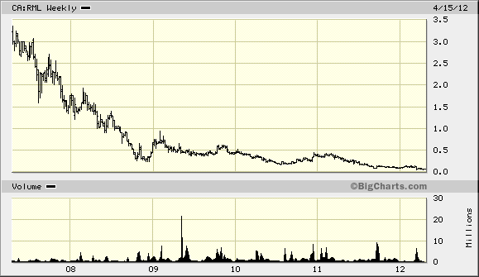 Don't feel bad if this is you, we've been there too!
There are a lot of theories as to why the gold stocks have underperformed gold bullion recently. I'm not going to cover those here, because frankly, I don't care about the "why." All I care about is our reaction to the market as it stands TODAY.
By the way, that's all you should EVER care about when you are investing. Forget the past, forget predicting the future... worry about the here-and-now!
Today, the here-and-now reality is that gold equities are about as bombed-out a sector as you will find, and I'm including US real estate! Gold newsletter writers are bordering on suicidal, some are suggesting to sell everything, and others are just floating away, never to be heard from again... A Canadian warrants site I used to follow closely has not been updated since February!
Even the popular MSM commentator, money manager and newsletter writer Dennis Gartman is bagging on gold stocks. He's just in time! With the GDXJ (junior gold stock index) down ~45% from its 2011 highs, he is advising his clients to give up on them because even when gold goes up, they can't stage a rally. He said that the juniors are "a mugs game if ever there was one," in this past Monday's The Gartman Letter.
I love the smell of capitulation in the morning...
Guess what all this means? We should (probably) be buying with both hands!
But, as another guy I respect a lot, Stewart Thomson, editor of Graceland Updates likes to say, don't be an (Elmer) Fudd and make the typical rookie retail investor mistake of "price plopping" all your capital into a market you think is bottomed out. Guess what, a ten cent stock can still go to one cent, or zero!
Buy a little at a time, and buy selectively. Scale your purchases in at lower levels, buying more of your favourites as they decline. If they rise a bit, let them go and maybe sell a bit as that's occurring. Never, ever, ever chase a market higher.
I'm going to quote Rick Rule a couple times here, because quite frankly, Rick knows his stuff. If you aren't as smart as Rick (I'm not) you should heed his sage advice:
"What is the appropriate response to a strong market? Sell! What is the appropriate response to a weak market? Buy! Be a contrarian or be a victim."
So, armed with that advice, how do we play this?
I recommended Sandstorm Resources in a post I wrote a while ago entitled "A Golden Opportunity." Sandstorm is a great company in my opinion, and my enthusiasm has been supported by the fact that when compared to the rest of the gold juniors space, Sandstorm is a rock star. Stocks that can hold up in a market like this need to be bought.
You could also buy the GDXJ (Market Vectors Junior Gold Miner's Index ETF) or the GDX (Market Vectors Gold Miner's Index ETF) if you prefer not to buy the more speculative issues.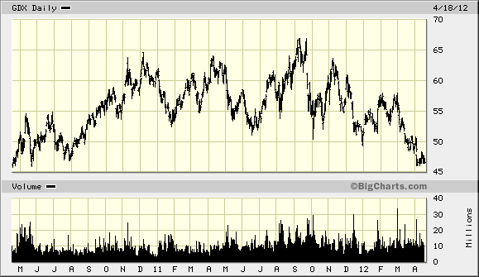 Bombed out?
My partner Chris has suggested buying long-dated calls on some of the better miners (you could do the same on the GDX and GDXJ). They're cheap as chips here, but they are an all-or-nothing bet, with the disadvantage of time decay.
For those who hold the lofty designation of "accredited" investors, something Rick said in a recent article struck me as having relevance to what we talk about in these pages - private placements.
"If you have the courage and the means, this could be an epic year for private placements. Issuers were reluctant to raise capital last year as a consequence of declining equity prices, but they continued to spend. They have, as an industry, pursued an illogical circular exercise: spending money to generate news… to increase share prices… to raise money. This year many will have to raise equity irrespective of market conditions, and the small institutions and mutual funds that funded them so generously in the past will probably be unable to do so in the future. Back only the best teams and good projects. And go for a warrant!"
Music to our ears. We always think private placements in good companies are better investments than buying retail, but there are cycles in the private placement market too, as the quote above suggests.
We prefer private placements for many reasons, including, as Rick pointed out, warrants! Private placements often entice the investor by including a warrant to buy additional shares at some point in the future, at a pre-determined price. We like having multiple swings at the ball.
- Mark
"The cure for low prices is low prices; the cure for high prices is high prices. In order to sell high, you must buy low." - Rick Rule
Disclosure: I am long SNDXF.PK.