A solid foundation.
Amarin has been deemed a failed company because of its approach for going it alone to Launch Vascepa. No partner. Small sales staff. Too much expenditure. They will never succeed.
Then why are their sales going up and up.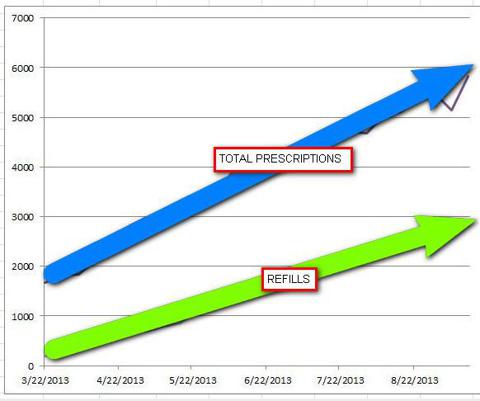 They have laid a solid foundation with a specialist group of builders. 250 hand picked sales staff instead of taking all applicants. I have hunted through the faces of staff and viewed CV's- They mostly have prior experience in sales with Pfizer, GSK and Epanova etc. All have similar products to Vascepa. They will have relationships already built with Medical practitioners. This concentrated sale force will have known the key people to target. Focusing on simple things pays off in the long run for businesses. Amarin (NASDAQ: AMRN ) is working the basics very well. Winning in the prescription drug game doesn't come only from having a good product. You have to know how the game works. Amarin's management team don't shout from the roof tops but they certainly seems to understand how to prioritise the fundamentals. I am not surprised- I have been to a few AGM's and they run smooth, fast and do not have superfluous waffle included. They have a job to do and they get in and out doing it confidently and efficiently.
Cost of sales and insurance cover
I have looked into insurance cover in the US as I know nothing about tiers and levels etc. We can have maybe 4 tiers. (Do not hang me if I am incorrect but feel free to educate me a little. )
Tier 1 contains mostly Generic drugs and are cheapest. Tier 3 contain drugs that are branded and are more expensive- not popular with insurance companies as they might have cheaper alternatives available, along with specialty drugs with no alternatives. Tier 2 lies in between and a 4th tier can be added for very expensive drugs. Sales of a drug will obviously be tied to which tier a medication is included in. Tier 4 are costly and very few can afford it. Tier 2 would open the drugs to a much greater market. As of Q 2 results Amarin have negotiated access into the tiers allowing approx 80 million people into its catchment area at tier 2. It is trying to expand out past 200 million people. More results should be available on the progress in the Sep 2013 Amarin Corp Earnings Release due on 6/7 November.
This is one of the key issues for future growth of Amarin share price at the moment. Luckily it is also the priority of Amarin Management. Progressing the drug to access Tier 2 coverage has already been secured with Aetna. Vascepa was not on the radar at all with that insurance company in 2012. They are struggling with United health group and some others- break throughs there would be a huge boost.
Near Future for the company
They have the ground work done and it feels as if the constant pressure approach is paying off. Barriers are breaking down and being chipped away. Scripts written are continuing to rise steadily. The Adcomm meeting is due in four weeks. The management have stated this is a box to tick and should have happened on previous applications. They have held practice runs. They have prepared and that usually leads to positive results. Communications have been clean and professional with no signs of a storm rising. Efficacy and safety are key to the FDA and Vascepa ticks the boxes.
The run up to Christmas should see a decent increase in share price. December 20th is a critical date for AMARIN. PDUFA approval for treating patients with triglyceride levels between 200-499 mg/dL will open out the market 10 fold. A nice Christmas present for Longs.
Disclosure: I am long AMRN, GOOG.
Additional disclosure: Do your own DD.... taking my advice to invest in Amarin is crazy. Dont do it.