Gold has bounced off a recent low of around $1240/oz and as of today is at $1261. Is this the beginning of the much awaited big move in gold? We don't believe so.
As it has done several times over the past few months, the gold price is now near its 25 day EMA in a downward sloping trend, and this usually means the downtrend continues.
It's also below it 50 day and 200 day SMA and both are downward sloping.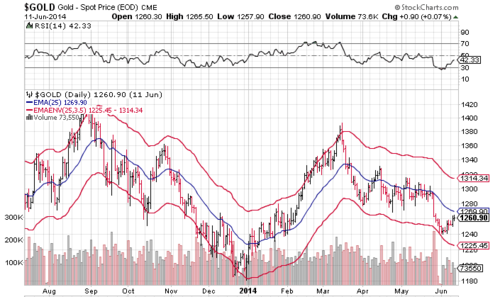 It looks like gold should approach the $1270 area before starting to head down again. We would wait until gold meaningfully crosses the 25 day EMA and turns the trend. It's similar to the early December time period, where it bounced from $1225/oz up to the 25 day EMA around $1260, but then turned and went back down to under $1200/oz.
Inflation still isn't much of a concern, growth and unemployment are stagnant. Barring some sort of financial Armageddon, this still doesn't look like a great entry point for a long term hold of gold, but it is coming.
This $20/oz move over the past week or so looks like a mix of oversold conditions and trouble brewing in Iraq.
However, gold remains a wonderful diversifier in a portfolio due to its non-correlation with other asset classes and will help smooth out the volatility over meaningful periods of time. If you are looking to buy the GLD or IAU, we would wait to buy until we see sustainable strength. And even then might lean towards the miners.
Disclosure: The author is long GG.