August 10, 2011 - Trade of the Day:
 
10AM UPDATE - Analysis proved correct. Market is 440 bps down. Model portfolio returned healthy 10% leveraged P&L.

Notional weighted-average trade:
Long CHF / Sell weighted basket of AUD, JPY, SEK, TRY, USD, and ZAR.
Long 10 Year U.S. Treasury
Short S&P 500 E-mini.
Short Euro / Long USD
Short Ruble / Long USD

Enter 8:00 AM ET - Exit 10:30AM ET, August 10, 2011


8AM EST
From technical analysis point of view:
Markets move in waves + flight to safe haven in absence of CHF direct intervention. Looks like market is capable of absorbing additional CHF liquidity rather quickly. CHF basket in combination with long 2/10 is a good high prob intraday trade this morning on S&P emini already down 2.3%  intraday on profit taking and Uk growth news.
From fundamental point of view:
Euro markets did not follow through as high as it was expected – hence initial nervous move into USD, CHF and gold, out of WTI/Brent . Along with CHF, 10 year is following emini intraday, up 0.30% (As well as Short Eur/Long USD @1.43617 for 50bps +ve p&l) .  Btw, OIS spread on eurolibor is highest in 2 years.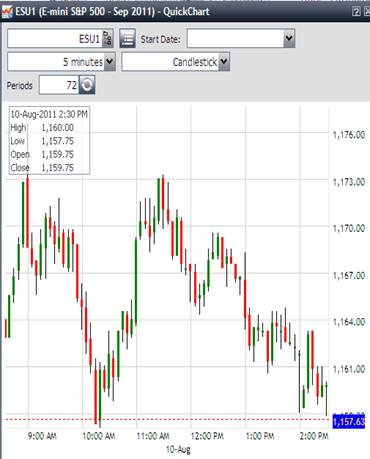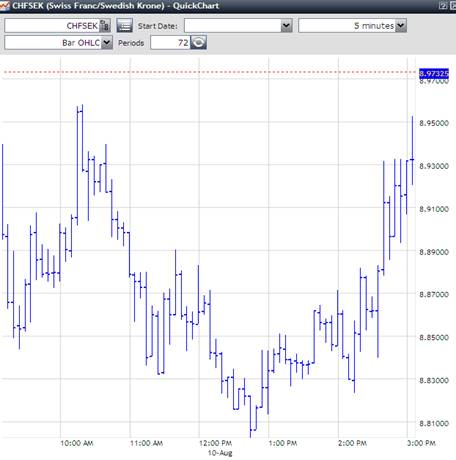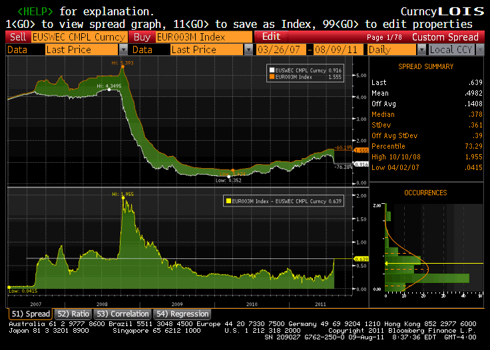 Click to enlarge
Disclosure:
I have no positions in any stocks mentioned, and no plans to initiate any positions within the next 72 hours.