Apple is broken? But does Jan exop offer relief?
The market makers pin AAPL at exactly 500.00 for Fridays major leap expiration, and the twitter world goes nuts and SEC investigations are in full throttle on "channel check" news releases.
Where does that leave us going forward?
Most technical indicators show Apple as a broken stock. Negative sentiment is rampant and driven by articles coming from all outlets including the Wall Street journal.
However, the wall street shakeout of weak owners is officially over starting Monday, the 21st.
I personally haven't traded Apple since last May, but ever since early December, as the stock continued to tank and Q1 earnings got closer and closer, I have been taking a hard look at this stock.
I have a full-time day job and "trade" only when I see tremendous opportunities. The last 45 days I have been researching Apple at least 6 hrs a day, on top of my normal job.
So let me start with some predictions, which will conclude with a detailed disclosure of my current option positions.
Apple Pre-Earnings -> Next 3 trading days
Expect Apple to possibly have one down day either on Monday or Tuesday depending on the news cycle and analyst commentary, and 2 up days with Wednesday being at least 2% up.**** correction, Monday is a closed market day. I would expect two up days Tuesday, Wednesday and still target for a 520-535 Wed close.
Wednesday 23rd Close -> 520 - 550.
Apple Earnings Forecast:
I have read pretty much every article available on the internet, including professional & independent analysts, and precursor numbers with reports from apple (release weekend sales / xmas day activation numbers), T and VZ reports. I have put these numbers into my own model.
Here are my numbers:
*see new estimates with this blog post: http://seekingalpha.com/instablog/942177-sheluvme/1476731-revising-my-apple-eps
Revenue: 60.5 Billion
iPhones: 51 million units
iPads: 27 million units (11 million minis though don't expect breakout of this figure)
GM %: 39.0%
EPS: 15.10
This will no doubt be considered a monster beat.
Apple Guidance Q2:
Probably even more important than their actual earnings is the guidance Mr. Oppenheimer will offer.
*Revising on 1/22. Due to larger than expected accelaration of iPhone units in Q1, I think this will have a negative impact on Q2. I expect them to advise somewhere near last years actuals for EPS. Lowering revenue and EPS target. Additionally, lowered GM to a more conservative forecast.
Revenue: 43 Billion (~9.5% increase y-o-y)
GM %: 38%
EPS: 12.50 (~1.6% increase y-o-y)
This guidance although still very conservative , i think will be considered extremely bullish by the street, especially because of the improving margin.
Other Predictions:
1. They will downplay the stock performance because they don't pay attention to that and does not factor into decisions on share repurchase or dividends. They are focused on delivering products.
2. Don't expect dividend or share buyback announcement. They will start a trend where this gets announced in Q2 - April report out, which will be approximately the 1 year anniversary of their dividend program.
3. They will crush "weak demand" "channel checks" as not accurate. Any supply changes are from changing product mix, adjustment to inventories, and from supplier switches.
Post-Earnings:
Expect volatility for at least 1 week after. Negative sentiment will try to critique the quarter and future quarters from all angles.
However as we hit early Feb bulls will have full control as the March product cycle approaches. Expect improving investor sentiment, more positive news cycles, and "reconfirmed buys and reconfirmed price targets above 700 by analyst".
By Feb 13th, 2 days before the next major expiration, I predict apple will be trading between 590 and 675, with my target at 625.
My Gambit:
First things first. These option trades are only a small portion of my gains that I made last Jan - May. This is only my options trading account and is not my standard portfolio. I do not advise anyone to take the amount of risk I am taking with these positions as I am willing to take a 80% loss if my thesis is wrong.
(click to enlarge)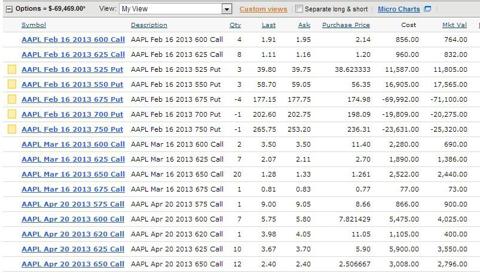 Click to enlarge
1/3 of this position was built the last week of December and 2/3 positions have been built the last 2 days. The earlier position is already down significantly, and if I liquidated at the Friday 500 close, it would be about worth $25,000, which already represents a 21% loss (32,000 cash put in).
If apple trades to 625 on Feb 13th and even when I adjust for a 10% volatility decrease, the positions will have a value of > $150,000.
If it trades to 675, positions will be worth $415,000. If only :)
Anyways, I hope with my worst case scenario, I am able to exit at a break-even, but I would need Apple to be at least 550 by early Feb. Anything lower and losses become steep, very fast.
After 6 hrs a day for last 45 days, I do hope I do not have a confirmation bias, and my predictions are at least close.
You have to get in the head of the managers of the 200 largest hedge funds. They will begin to push their cash to work and turn Apple into a bull again.
Check back with you next week for an update. I hope you enjoyed this instablog.
Disclosure: I am long AAPL.
Additional disclosure: All my Apple positions are disclosed in position image.