"Buy when there's blood in the streets, even if the blood is your own."
Baron Rothschild held this belief way back in the 18th century.  The modern day version of this is uttered by Warren Buffet:   "You pay a very high price in the stock market for a cheery consensus.
While I don't know the Rothschild history, I certainly can't turn my back on Buffet...after all we have a few things in common - only buy things you can explain to other people, hamburgers and profiting from sentiment gone bad.
Take a look at this PCX chart: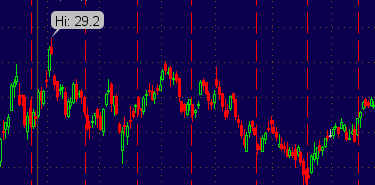 Looks pretty good right?  Traveling in a channel for four plus months, it was the options writer's dream for easy premium.  It empowered a whole new class of bull market geniuses who toasted their success with finely aged scotch and Cuban cigars.  Traders were drunk with success but sadly the ending to this story is always the same...
How do you think the shareholders felt when in two months time their little company lost 50% of its' market capitalization?  Who would want to own a stock that's now 75% off its' all time high?  How can you put money to work on such an ugly chart?
I love charts like this as I can employ a little trade called the chunky monkey.  It's a interesting name I know, but one you are unlikely to forget as a vast majority of the time it is a money making pattern.  Let's break it down into more visual terms: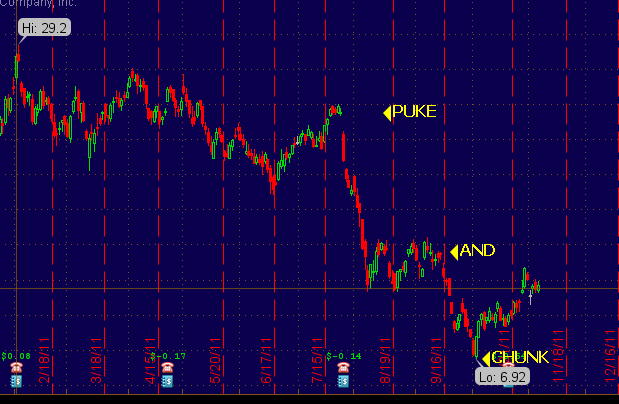 What this chart is depicting is heavy massive distribution followed by a small period of consolidation and a final capitulation that finds buyers and stabilizes at a higher low.  Those are the technical words for the chunky monkey.  Let's take a look at another, more famous, chunky monkey.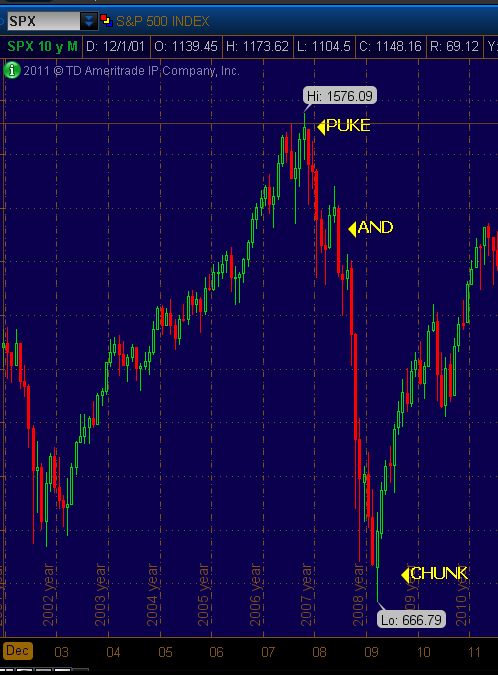 Remember how you felt when this happened?  Me too.  I was SICK.  I kept watching the S&P knowing it was too late to short and too early to buy but wanting to do
something
even though I didn't know what that something was supposed to be.  Looking back, as all good traders should do, I noticed a pattern and - well, you already know the name.
When the market (option/stock/index/future) gets lopsided in overly bearish sentiment, the capitulation often comes in stages.  The initial down to at or near a former low (reaction low), followed by a period of stabilization only to be hit by a second wave of selling to a new low (second reaction low).
The second reaction low will be accompanied by a huge volume bar and form a long candle with a long lower wick.  By waiting for the second reaction low we avoid injury because the lower candle wick has already shown us the maximum power of the bears.  Any break below that means you are wrong and don't want to be long.  
I will always remember waiting for the March 2009 bottom to be put in.  My mentor said "it's not done puking, wait until we see chunks on the floor".  That last surge down was a gut wrenching powerful heave...you get the picture.
Let's monetize the concept with a trade on PCX.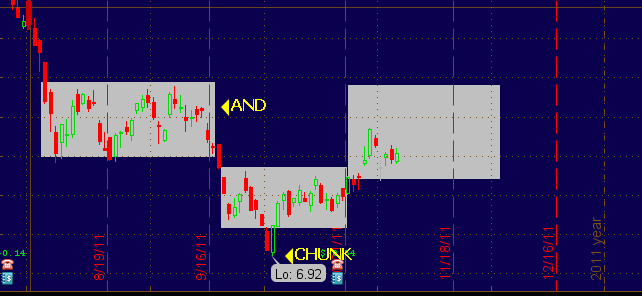 PCX is in a favored sector for fall/winter.  PCX has already capitulated making for a low risk entry with a confirmed bottom at $6.92.  In consolidation, directional options trades face headway of time decay.  Let's turn the pattern, the seasonality and the time decay into a profitable trade.  Take a look at the December option chain for PCX. 

As you can see the volatility is very high.  As an options trader I try to trade extremes - I sell high volatility and buy low volatility.  So, for PCX I would be a put seller to exploit this increased volatility.  In looking at the chart and the chain, I like the December 10 strike as it offers a decent premium for the risk of owning PCX at $10.  My trade is to sell to open (NYSE:
STO
) the December Monthly 2011 $10 strike for a net credit of .60 or above.  By opening this trade I am saying that I think the price of PCX will be above $10 at the time of expiry which is the 3rd Friday in December, or I will be OK with having the stock "put" to me at $10.
Do not sell any option on a stock you do not want to own.
There are three outcomes for this trade.  If PCX stays above $10 by expiry, I do nothing and keep the credit in full.  If PCX is $9.99 or below at expiry I can buy the put back and close it at a loss, or take assignment on the stock.  If I take assignment on the stock, I will have reduced my cost basis by the credit I took in, meaning I would have a cost basis of $9.40.
PCX is likely to form a new base between here and $15.  Each day that passes erodes a little more of the time value from our short put position, therefore, we are profiting from a seasonally strong sector, in a stock that's already put in a tradeable bottom while turning the time factor in our favor.
Suz
OptionMarketMentor.com