A lock-up is a contractual agreement that precludes majority shareholders and company insiders from trading their shares for a certain period of time after a company has initially gone public, generally between 90 to 180 days.

A lock-up is done on IPO's so that the market is not flooded with a new supply of a company's stock too quickly.  Typically 20% of the shares are offered to the public with 80% being held by institutional investors and company insiders.

That got me to thinking what would happen to price AFTER the lock-up expires and everyone is free to dispose of shares in the open market - and I discovered there is empirical data suggesting there is a permanent drop in price of 1-3% post lock-up.


If this statement proves true, then LNKD is offering a great opportunity for an event based short entry. Let's take a look at the chart.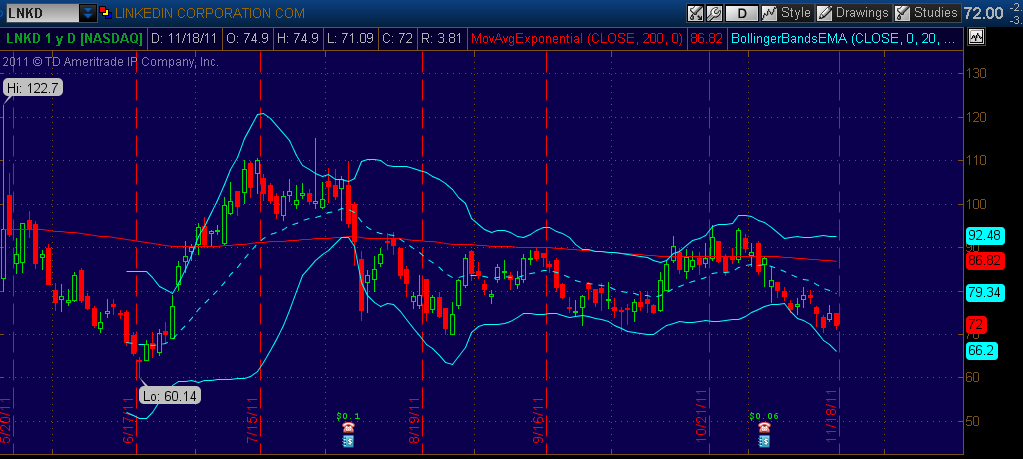 LNKD had an IPO high of $122.70 and a recent low of $60.14.  Since August, the price has been rangebound between $67.00 & $92.00.  When a price stays rangebound for a long time, it is considered a "channel stock".  Channel stocks are great for options writers as you can sell calls at the top and puts at the bottom with defined risk and entries.  When price starts to move above or below the range it can lead to a breakout.  Remember that the word breakout does not indicate direction, only that price moves with conviction up or down.


We've discussed that the bollinger band complex contains 90% of all prices.  Looking at this chart, we don't have a deviance, but we do have a telling indicator by studying the band formation.  See how the top bollinger band is relatively flat but the bottom one is sloping down?  That's a pretty reliable signal that price is going to resolve to the downside.

Combining the known information, we now have a chart pattern giving indication price will resolve to the downside, and a catalyst to help get it started.  That's a winning combination.

What's the trade?  I like the December $70 puts for $5.60 or less and/or the December $67.50 puts for $5.00 or less.  I assign a first downside target of $60 based on the current known low of $60.14.  Based on this the theoretical value of the $70 put is around $10 and the theoretical value of the $67.50 is $7.75.  The theoretical value is assuming price hits target no later than the Monday before expiry.

Shorting the end of the post IPO lock-up can be a profitable trade tactic, especially when the chart is already showing price weakness.  I am long the December $70 and December $67.50 puts.

Suz
Suzie@OptionMarketMentor.com
@suzyq76022