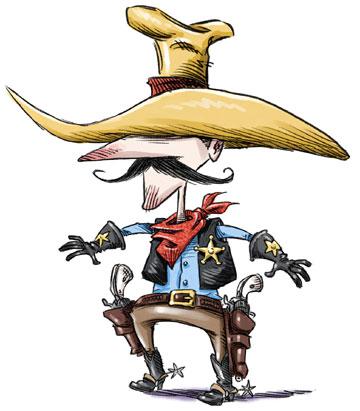 Earlier this month, the SEC charged the Chinese affiliates of the big four accounting firms with violating U.S. securities laws. Supposedly, they were enabling Chinese frauds, which were listing in the US in order to abscond with cash in US-listed shell corporations. The SEC de-registered the securities of 50 companies and filed fraud cases against 40 security issuers and executives. How did things get this far? Didn't anyone know? The scale was massive, the capital destruction is in the billions of dollars, and none of the accountants stopped it.
Before answering that question, it is important to understand the role of enforcement agencies and their relationship to crime. They bring criminals to justice and shut down criminal activity after the crimes have been committed. This is a crucial role for the protection of our society, but it comes after victims have been hurt and sometimes ruined. To avoid being a victim oneself, one must be prepared to protect oneself from crime - whether a physical crime or a financial one.
The auditor's Chinese clients had patent inconsistencies between their tax filings in China and corporate filings in the US. They offered little or misleading disclosures about their activities. At the same time, they were accessing the billions of dollars available from US-listed shell companies. At their peak, such companies had a combined market capitalization of over $20 billion. Almost all were frauds. Many were named "China", "Orient", or "Sino" in order to attract the interest of easily duped westerners in search of a connection to China.
As recently as two years ago, a majority of our short ideas were US-listed Chinese frauds. The list includes Orient Paper Inc (NYSEMKT:ONP), China-Biotics Inc. (OTC:CHBT), SinoCoking Coal and Coke (NASDAQ:SCOK), Telestone Technologies Corporation (NASDAQ:TSTC), and China Valves Technology, Inc. (OTC:CVVT). Their average performance has been a loss of 92% since the positions were first established. About forty percent of the securities have been de-listed. Others are trading close to zero and are currently out of compliance with the rules governing their exchanges.
What are the lessons that we can draw? Two come to mind. First, investors should not outsource fraud detection to highly conflicted service providers. After establishing our positions, we took our work to one of the US auditors subsequently named in the SEC charges. They understood our concerns, but responded that they get paid a lot by Chinese clients, their competitors were doing the same thing, and the local affiliates use the auditors name but are not technically the same company as the US-based firms. Not comforting.
Secondly, the fastest and most ruthless regulator that fraudsters have to face is the regulation provided by the market itself. Market regulators in the form of short-sellers were actively engaged in primary research into this fraud years before the government regulators took notice. In the intervening years, U.S. investors already took most of the loss that they were exposed to. And during those years, more scrutiny has been directed towards the market regulating short sellers than on the Chinese frauds that the short sellers were uncovering.
Disclosure: The author is short SCOK. The author wrote this article themselves, and it expresses their own opinions. The author is not receiving compensation for it. The author has no business relationship with any company whose stock is mentioned in this article.
Additional disclosure: Chris DeMuth Jr is a portfolio manager at Rangeley Capital, a partnership that invests with a margin of safety by buying securities at deep discounts to their intrinsic value and unlocking that value through corporate events. In order to maximize total returns for our partners, we reserve the right to make investment decisions regarding any security without further notification except where such notification is required by law.