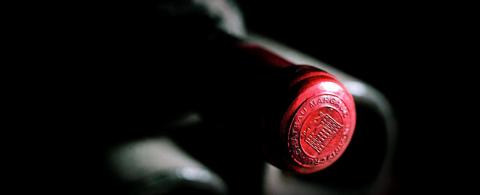 Well into the harvest, no one had any idea how great the vintage would be. The grapes were concentrated as never before, but it was unclear as to how it would stay up next to '86 or '95. But as the wine aged in the barrels, it started to slip out that this, the last year of the 20th century, would produce its best wine. Demand in the En Primeur futures market was strong. It was bottled in November 2002 and I was ready to get my hands on some. But by this time, the word was out. Famed wine critic gave it a perfect score of 100 points and prices were rising fast.
Around this time, my wife's non-profit moved into the building across the street from a grocery store which sent around a mailing offering her and her colleagues a "50% off, one-day sale" to welcome them to the neighborhood. While there is no such thing as a free lunch, I am happy to settle for a half off lunch. On one hand, it suggested that we, "come for lunch", but it also made clear "anything in the store"… a store that included a very good wine store in the back. She had a salad and I had a sandwich and also bought a case of Chateau Margaux. The standard case discount of 10% brought the case for approximately $12,000 to $10,800. With the 50% discount, it went to $5,400 for a 55% discount. We're not big wine drinkers, but we drank a few bottles and discovered that a splash makes a surprisingly good addition to Beef bourguignon. Through the subsequent years, demand from Asian millionaires gobbled up the rest of the supply at exorbitant prices.
Disclosure: I have no positions in any stocks mentioned, and no plans to initiate any positions within the next 72 hours.
Additional disclosure: Chris DeMuth Jr is a portfolio manager at Rangeley Capital, a partnership that invests with a margin of safety by buying securities at deep discounts to their intrinsic value and unlocking that value through corporate events. In order to maximize total returns for our partners, we reserve the right to make investment decisions regarding any security without further notification except where such notification is required by law.