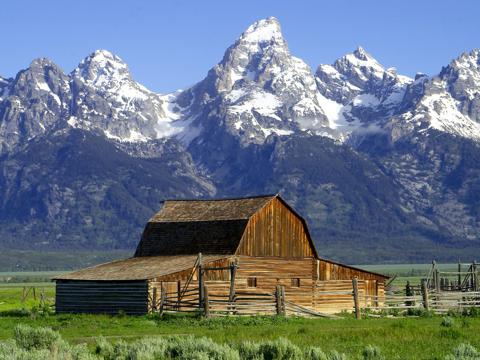 Bliss, for my purposes, is defined as low taxes and sensible public policy. If you had no business or familial commitments, where would be the perfect state in which to live? My first plan was to winter in inner city Detroit and summer in one of the many half-abandoned condo forests in Florida (doubtlessly making us the first inner city Detroit family to use winter as a verb). I calculated that we could take Florida residence for tax purposes and rent out our homes while we were gone for an amount greater than the necessary mortgage servicing. We would be living for free. What's more, Detroit real estate has been a terrific investment since the bankruptcy filing, appreciating by over 20% on the expectation that there was little left to lose. My first efforts at achieving real estate bliss ran into some opposition from my wife who stated delicately but forcefully that she did not plan on joining me at either locale.
Plan B was Texas in the winter and Alaska in the summer, for daylight and not too much heat in the summer and state income tax avoidance year round. This got a somewhat warmer reception than my inner city Detroit/Florida half-abandoned condo forest scheme, but still did not pass the finish line. My bride is less consistently misanthropic than I am. I prefer a few hundred miles between me and my neighbors (they probably do too) but she wanted some more company than these states offer, at least in my favorite spots.
Tahoe on the Nevada side is a gem, but the gaming industry presence is seedy and depressing. It is a shortcoming, but people losing money that they cannot afford makes me feel bad. I am happy to invest in it, but not something I want to live around.
The current idea is to earn in state income tax free Wyoming and spend in next door sales tax free Montana.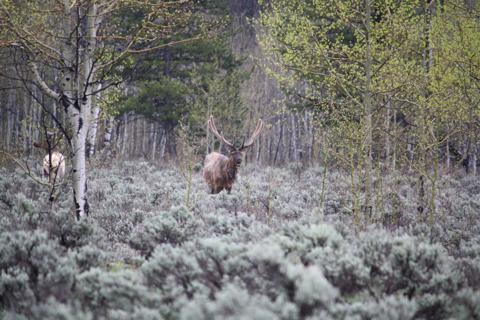 Wyoming is one of the states without income tax: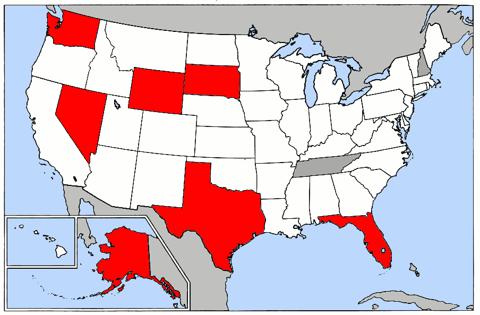 It is next door to Montana, one of the states without sales tax: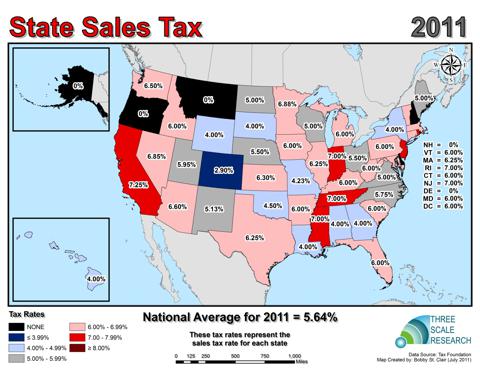 It is also an extremely attractive state, nationally recognized as one of the top ten states for scenery:
One of the easiest, objective criteria is crime (one can quibble over the attractiveness of many characteristics, but crime is a pretty objective negative). Wyoming crime is very low: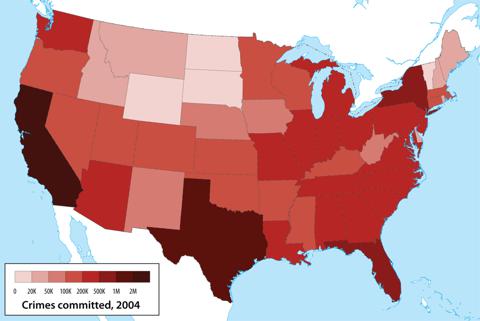 Wyoming public policy is quite conservative and market-oriented. It is unlikely to lead to radical public policy changes in the future. As a rough proxy for public policy predictability, here is their latest Electoral College composition by county: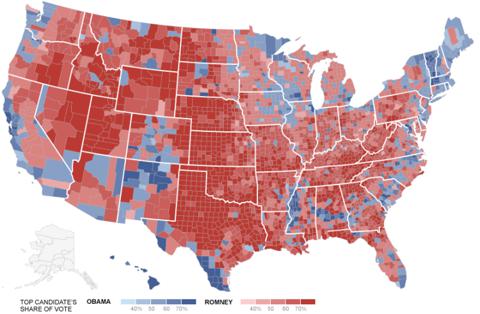 Wyoming will remain solvent long after California, Illinois, and Connecticut jack up taxes further and seek federal bailout money to reward themselves for their fiscal profligacy.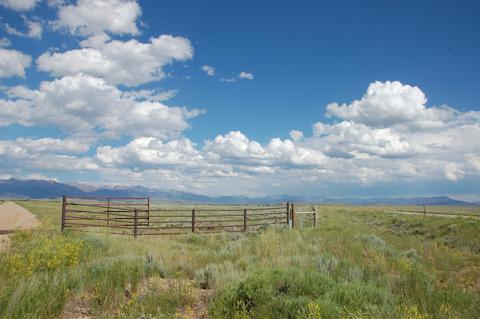 Besides lacking a state tax on personal or corporate income, Wyoming has many other tax advantages. There is essentially no state inheritance tax. There is no state gift tax. There is no tax on out of state retirement income. There is no excise tax. There is no tax on mineral ownership. There is no intangible tax. There is no tax on real estate sales. A dynasty trust administered in the state shields real estate from federal estate tax for up to a thousand years. Property taxes are low.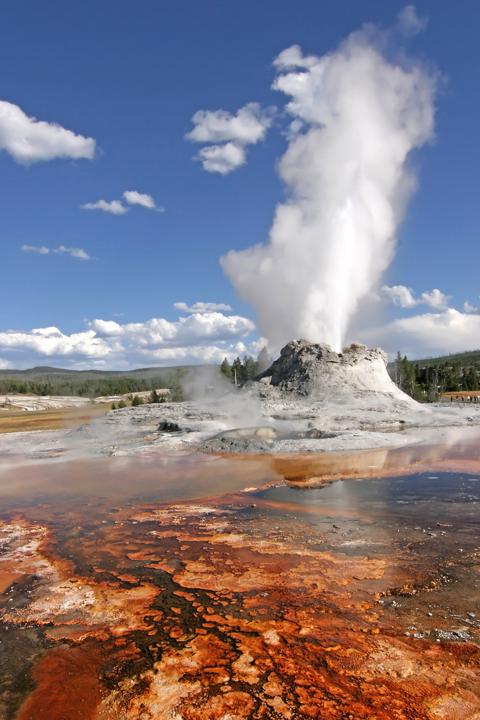 A recent survey names Wyoming,
"a model of good management and a prospering population. The state is particularly efficient at managing its debt, owing the equivalent of just 20.4% of annual revenue in fiscal 2010. Wyoming also has a tax structure that, according to the Tax Foundation, is the nation's most-favorable for businesses - it does not have any corporate income taxes. The state has experienced an energy boom in recent years. The mining industry, which includes oil and gas extracting, accounted for 29.4% of the state's GDP in 2011 alone, more than in any other state. As of last year, Wyoming's poverty, home foreclosure, and unemployment rates were all among the lowest in the nation."

According to Tax Foundation, Wyoming's 2010 tax burden of 7.77% ranks 5th lowest out of 50 states, and is below the national average of 9.9%. Wyoming's taxpayers pay $3721 per capita in state and local taxes. Wyoming ranks 1st in the Tax Foundation's State Business Tax Climate Index. The Index compares the states in five areas of taxation that impact business: corporate taxes, individual income taxes, sales taxes, unemployment insurance taxes, and taxes on property, including residential and commercial property. The ranks of neighboring states are as follows: Montana, 8th, South Dakota, 2nd, Nebraska, 31st, Colorado, 18th, Utah, 10th, and Idaho, 20th. Wyoming levies no individual income tax, joining seven other states with the same policy: Alaska, Florida, Nevada, South Dakota, Texas, Washington, and Wyoming. Wyoming levies no corporate income tax, joining three other states with the same policy: Nevada, South Dakota, and Wyoming. Wyoming levies a 4% general sales or use tax on consumers, which is below the national median of 6%. The average local sales tax rate is an additional 1.34%. Wyoming's state and local governments collect $1719 per person in general sales taxes and $214 per person in excise taxes, for a combined figure of $1932, which ranks 3rd highest nationally. Wyoming's gasoline tax stands at 14¢ (2nd lowest nationally), while its cigarette tax stands at $0.6 (12th lowest nationally.). Want to avoid Wyoming sales taxes? Shop in nearby Montana. Montana levies a 0% general sales or use tax on consumers, which is below the national median of 6%. Montana's state and local governments collect $0 per person in general sales taxes and $546 per person in excise taxes, for a combined figure of $546, which ranks 3rd lowest nationally. Montana's gasoline tax stands at 27.8¢ (22nd highest nationally), while its cigarette tax stands at $1.7 (16th highest nationally.).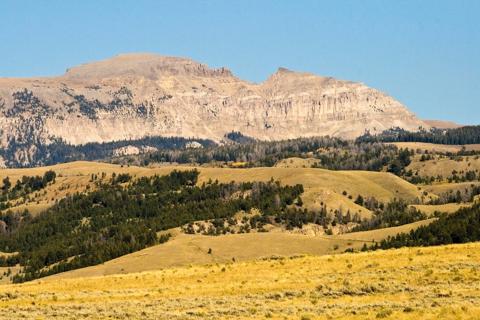 Tax Freedom Day is the day when Americans finally have earned enough money to pay off their total tax bill for the year. In 2013, Wyoming taxpayers worked until April 16th (17th latest nationally) to pay their total tax bill. The Tax Freedom Days of neighboring states are: Montana, April 10th (ranked 19th earliest nationally); South Dakota, April 4th (ranked 6th earliest nationally); Nebraska, April 12th (ranked 23rd earliest nationally); Colorado, April 17th (ranked 16th latest nationally); Utah, April 13th (ranked 24th earliest nationally); and Idaho, April 9th (ranked 15th earliest nationally).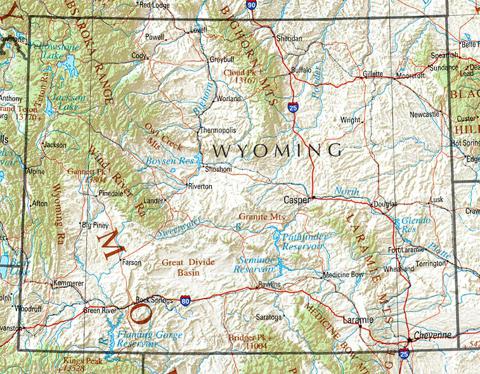 Sadly, workers in my state of Connecticut are indentured servants for the state through the first half of May and only start working for themselves and their families around Memorial Day. Wyoming workers are able to work and save on their own behalf for almost a full extra month each year. This represents a spectacular potential to generate and compound wealth over the long-term: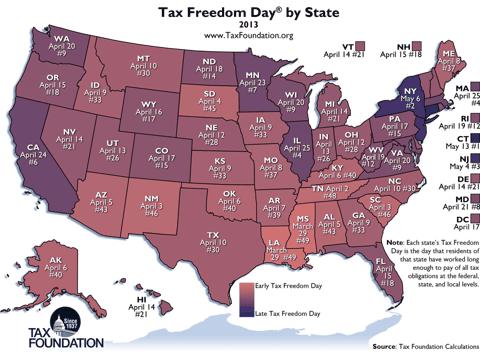 Wyoming is also in the top 10% most pro-business states according to Pollina Corporate Real Estate, Inc. This study combined factors related to taxes, human resources, right-to-work legislation, energy costs, infrastructure spending, worker compensation legislation, and jobs lost or gained.