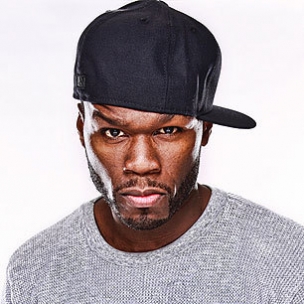 (50 Cent)
At the beginning of the year, we suggested buying $1 for $0.50 and getting the Bombay Stock Exchange for free via purchasing shares in Urbana Corp. (GM:UBAA). Since that time, I have had enjoyed constructive communication with their fund manager, who I trust and respect. It has been almost a year, so here is an update on this investment idea. These are the early results in terms of the market price: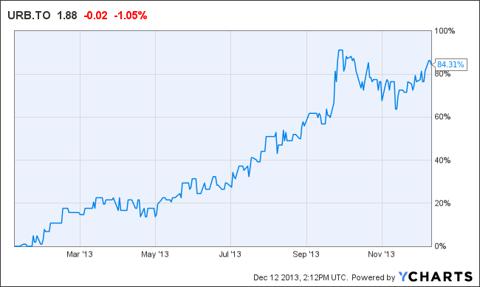 The NAV has gone up by about 49% from $1.89 to $2.82. The fund benefitted from the takeover of NYSE Euronext by Intercontinental Exchange (NYSE:ICE). The Bombay Stock Exchange applied for an IPO withy the regulatory authorities several months ago and awaits their answer. The IPO is anticipated to forward early in the New Year. Here is the current investment portfolio: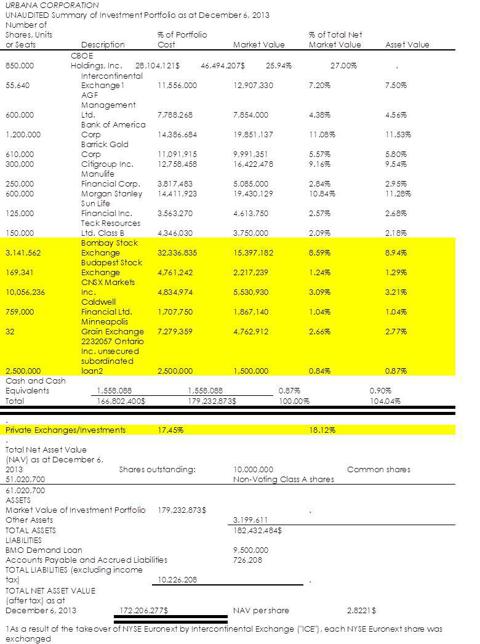 Since inception, the fund is up about 79%, over twice as much as the S&P 500 ETF (NYSEARCA:SPY) which was up about 39% over the same period: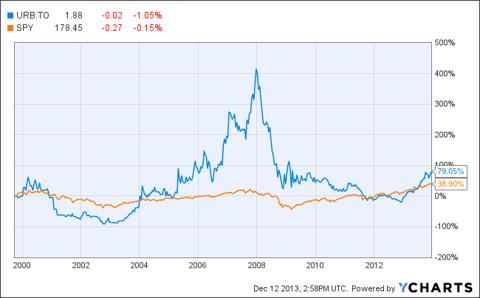 From a marketing perspective, Urbana has touted their annual compound returns of over 15%, which compares favorably to S&P 500 returns of around 5% during that period.
Since the market price increased by 84% while the NAV has improved by 49% from the time of our last update, it currently trades at about two-thirds of NAV. Urbana's fund manager is working to close the remaining gap by aggressively repurchasing shares. In late August, he announced his intention to repurchase up to 10% of the public float, which is the maximum allowed under TSX exchange rules. Under the previous buyback, he repurchased almost six million shares at an average price of $1.18, which was quite accretive to the value of the remaining public shares.
No key Urbana insiders have any current intentions to sell shares under the buyback plan. Urbana insiders think that their shares may be attractive and that purchase of such shares from time to time would be an appropriate use of funds. I agree.
Disclosure: I am long UBAA.
Additional disclosure: Chris DeMuth Jr is a portfolio manager at Rangeley Capital, a partnership that invests with a margin of safety by buying securities at deep discounts to their intrinsic value and unlocking that value through corporate events. In order to maximize total returns for our partners, we reserve the right to make investment decisions regarding any security without further notification except where such notification is required by law.