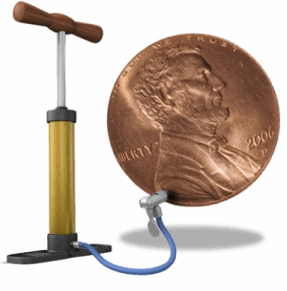 There was a lot to learn from UNXL. If you want to go into the business of promoting a stock, you first need an association with something awesome. Apple (NASDAQ:AAPL) is legitimately awesome. Then you need a fuzzy connection to that awesome thing (you will want to keep it a bit vague what exactly that connection really is). Use the word "disruptive" a lot. Pick a huge number (I like one billion) and toss that around, whether it refers to market cap, sales or profits does not really matter. So: Disruptive technology involving Apple which was founded by the disruptive genius Steve Jobs, reaching billions of people and worth a market cap of billions selling billions of… thingies. Eastman Kodak (NYSE:KODK) is not as awesome as Apple because it was recently bankrupt, but it is still famous so it will do in a pinch. Also, it may help to have at least one "x" in the ticker, which increases the appearance of awesomeness.
Here are the early results of our UNXL short idea: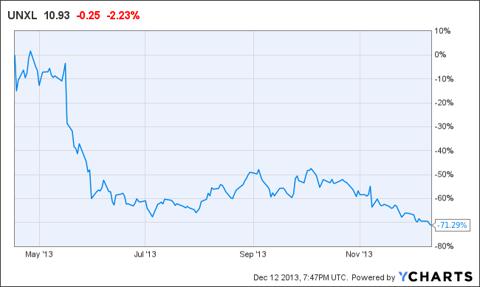 UNXL's product is UNXL's stock. Our view is that they will issue more shares and that the value per share will be massively diluted. Our estimated value per share is between $2-3. The company is managed by stock promoters with a long history of wild - and subsequently broken - promises. They executed one of history's best timed secondary offerings earlier this year. However, they will need to keep executing stock offerings in order to keep going. Most of the promoters will probably prefer to load up the circus train and head on to the next town.
Disclosure: I am/we are short UNXL.
Additional disclosure: Chris DeMuth Jr is a portfolio manager at Rangeley Capital. Rangeley invests with a margin of safety by buying securities at deep discounts to their intrinsic value and unlocking that value through corporate events. In order to maximize total returns for our investors, we reserve the right to make investment decisions regarding any security without further notification except where such notification is required by law.