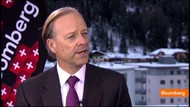 On the morning of January 23, 2014, Sanofi CEO Christopher Viehbacher spoke with Bloomberg TV in an interview in Davos, Switzerland. Previously, on January 14, Bloomberg reported that Sanofi was seeking to reach a compromise with the FDA on the Lemtrada MS drug. This morning, the interviewer commented the Lemtrada was a drug the Viehbacher had hoped to use to gain a fair amount of share in the multiple sclerosis business. The FDA rejected it. How much of a letdown was that?
According to Viehbacher, it was not something that was a total surprise. When SNY acquired Genzyme, they created a contingent value right recognizing that it was not going to be an easy thing to bring Lemtrada to the market. This is a drug that's been in development for quite some time. That having been said, this is a drug that has been approved by thirty countries around the world. We are seeing patients that have gone five years without a relapse so Sanofi believes that the drug actually is working and it's important for patients and that's why for the first time in my twenty-five years in the industry we're thinking about doing an appeal with the FDA.
The interviewer asked, realistically, what are the chances that appeal works because if you look at appeals in generally fifteen or twenty percent are successful? Well, it is worth trying, said Viehbacher. We can't possibly go do the new trial so the product comes to the market or it doesn't come to the market. In the rest of the world though the market is a little different. There are more MS patients in Europe than in the US so Lemtrada can still be a big success.
Disclosure: I am long GCVRZ.
Additional disclosure: Chris DeMuth Jr is a portfolio manager at Rangeley Capital, a partnership that invests with a margin of safety by buying securities at deep discounts to their intrinsic value and unlocking that value through corporate events. In order to maximize total returns for our partners, we reserve the right to make investment decisions regarding any security without further notification except where such notification is required by law.