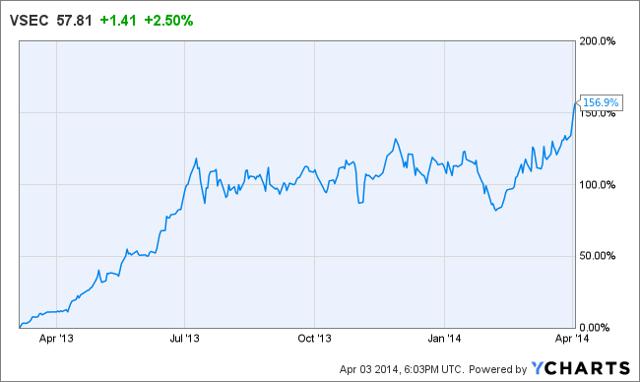 Click to enlarge
Just over a year ago, I started investing in VSEC with the view that it was 1) a cheap stock and 2) a takeover candidate. After over a year has gone by, it appears that we were one out of two. It has an underutilized balance sheet and has never attracted much interest from the market. But this would be a clean, easy acquisition for a larger government contractor. The opportunity probably arose because of worries about our reduced military deployments as well as budget sequestration. But those appeared to be Y2K+13 fears. Now that those issues are receding, what is next for VSEC? For VSEC owners, the best outcome could be a cost saving acquisition by a larger contractor.
Disclosure: I am long VSEC.
Additional disclosure: Chris DeMuth Jr is a portfolio manager at Rangeley Capital, a partnership that invests with a margin of safety by buying securities at deep discounts to their intrinsic value and unlocking that value through corporate events. In order to maximize total returns for our partners, we reserve the right to make investment decisions regarding any security without further notification except where such notification is required by law.