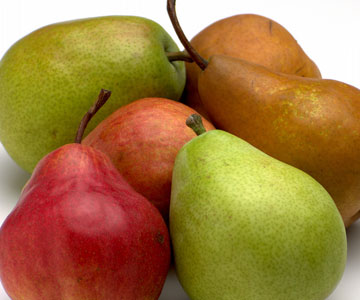 What are your favorite pair trades? For the sake of this forum, I am interested in any pairs that are historically correlated and have a catalyst to diverge in the future.
Long Retractable Technologies, Inc./Short Unilife Corp
Mine? To kick off the conversation with something bold and - I hope - lucrative, I propose that you consider buying RVP and shorting or writing calls on UNIS.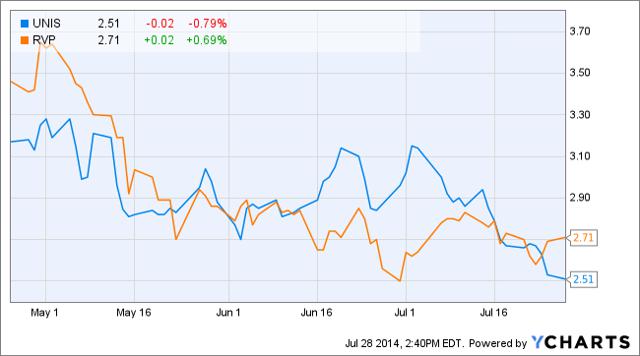 Coincidentally, the prices per share of these two equities are fairly similar. One can buy RVP for under $3.00 and can short UNIS or write $2.50 calls on it in order to collect premium. If you write December $2.50 calls on UNIS, you will collect at least $0.40 while you wait on this spread to diverge. What is the spread worth? RVP-UNIS currently = $0.20. I would be interested to hear others' opinions, but my view is that RVP-UNIS = over 50x that spread by the end of the year. Do your own work and ask any questions below. Also, please add your own candidates for best pair trades.
RVP's VanishPoint

UNIS' Unifill

There are superficial similarities to the product area and the shares have been somewhat correlated over the past quarter. As of today, Monday, July 28, 2014, UNIS' market capitalization is almost three and a half times RVP's. I submit that relationship will change dramatically in the second half of 2014 to the benefit of RVP and/or the detriment of UNIS. I discuss RVP in further detail in tomorrow's Stocks to Watch. Due to threats of litigiousness as well as general unpleasantness, I will limit my comments on UNIS, but I encourage you to take a close look and reach your own conclusion on its value.
Tuesday, September 30, 2014 Update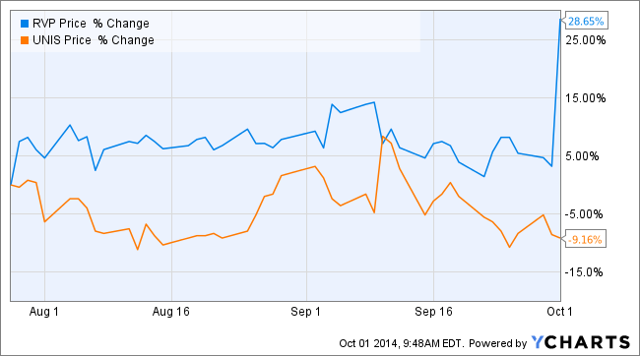 It is reasonable to expect that UNIS will eventually be worthless. At the same time, RVP is probably worth at least $12 per share. So far so good.
Disclosure: The author is long RVP.
Additional disclosure: Chris DeMuth Jr is a portfolio manager at Rangeley Capital, a partnership that invests with a margin of safety by buying securities at deep discounts to their intrinsic value and unlocking that value through corporate events. In order to maximize total returns for our partners, we reserve the right to make investment decisions regarding any security without further notification except where such notification is required by law.