As opposed to investing for the long haul, successful trading requires a great deal of patience, because traders should be focused on finding the highest possible odds in every trade they make. Otherwise, timing the market would be akin to a guessing game in which there is approximately a 50/50 chance of movement in one direction or the other. Traders can be right half the time, but would risk losing all their gains on the times they are wrong. That's why so many market timers fail.
By definition, a trade with the odds greatly in your favor is not bound to come along every day or every week. It can be frustrating to wait, but in the end, patience pays off, because the odds are so greatly in the trader's favor that they stand to take on very little drawdown compared to the potential reward.
I believe a high odds set-up has arrived finally in the volatility ETFs, and it's time to short volatility for a multi-day or multi-week trade. Here's why.
Volatility Continues To Conform To Past Low Volatility Climates
I speculated in a previous article that the volatility index (VIX) was beginning to exhibit the same characteristics as it did in past decades where it stayed below 20 for extended periods of time and rarely rose above it. This was the probability distribution of the VIX during those years: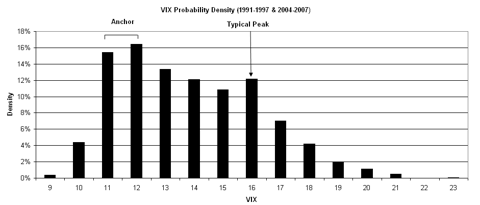 I have created chart showing the distribution of the VIX since June 22, 2012, the point at which the VIX began to display the same characteristics.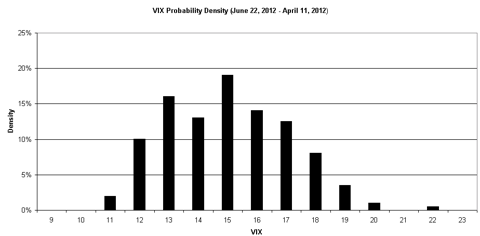 The two charts are not identical, but the ranges are very similar. The VIX has rarely closed above 20 and below 12. The middle of the distribution is not quite the same, but I suspect it will begin to conform to the historical distribution over time.
Options Expiration Week Provides Opportunities
For whatever reason, the best volatility trade entries (long or short) seem to come during and after options expiration week. It makes sense that volatility could reach an extreme during that week because of all the traders positioning themselves for the expiration of their options. For example, they might roll to a future month or simply close out a losing or winning position to avoid the option expiring. It doesn't really matter why it happens, but the evidence shows that this is clearly the case.
Take a look at where the VIX closed on options expiration in January, February and March of 2013. All of the last three options expirations were short-term bottoms in volatility. Expiration may not always provide a bottom to volatility, but it usually does happen near a key turning point (top or bottom). It's possible April options expiration could be a top or a bottom. It's too soon to tell, but with the VIX spiking above 17 today, this week could lead to a top in volatility.
Options expiration is always the third Friday of every month. In April, it falls on April 19th.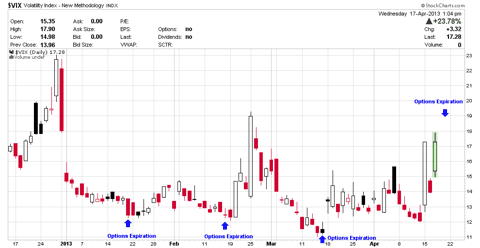 Volatility Is Statistically Overbought Above 16
According to my research and assumptions, if we are in a low volatility environment similar to the past, volatility did not spend a lot of time above 16. It could go as high as the low 20's, and I would sort of expect that to happen quite a bit of the time, but as for trading, the risk-reward equations heavily tilts in the favor of volatility shorts above 16. In fact, the VIX spent less than 20% of the time above 16. The VIX is currently trading at 17.40 as of this writing.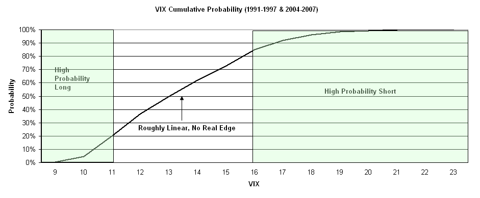 Entry, Exit and Stop Criteria
All trades should have clearly defined entries, exits and stops. The entry will be triggered if the VIX were to close above 16 (met on April 17th). The short position should be exited when the VIX closes under 13. This was established using statistics in my previous discussion. The position should be stopped out if the VIX closes above 25 or so. The reason this level is so important is that the VIX never closed above 25 during the historical periods of low volatility, and if it does now, that means the assumptions under which I entered the trade are questionable.
Conclusion
The best trade right now in terms of odds is to short volatility. To do this, a trader could use a number of methods. Here are a few:
1. Purchase or buy calls on a short VIX futures ETF
VelocityShares Daily Inverse VIX ST ETN (NASDAQ:XIV)
ProShares Short VIX Short-Term Fut ETF (NYSEARCA:SVXY)
2. Buy puts on a long VIX futures ETF
iPath S&P 500 VIX ST Futures ETN (NYSEARCA:VXX)
ProShares Ultra VIX Short-Term Fut ETF (NYSEARCA:UVXY)
VelocityShares Daily 2x VIX ST ETN (NASDAQ:TVIX)
I do not recommend shorting a volatility ETF due to the associated risks with shorting any instrument (potential unlimited losses). I prefer to buy puts instead, which have a limited loss potential.
The entries, exits and stop levels have all been defined based on historical statistics. Understand that a trade like this could experience drawdown, perhaps even somewhat severe drawdown, were the VIX to spike into the low 20's from the 17 level. However, history shows that it should fall back to 11-12 over time. That's why it is critical to be patient in the trade, and anyone purchasing options should use expirations that are at least two months out with fairly conservative strike prices.
Disclosure: I have no positions in any stocks mentioned, and no plans to initiate any positions within the next 72 hours. I wrote this article myself, and it expresses my own opinions. I am not receiving compensation for it (other than from Seeking Alpha). I have no business relationship with any company whose stock is mentioned in this article.
Additional disclosure: I am not short VXX, but I do own Jun 2013 @18 puts.