Newmont Mining Corporation (NYSE:NEM)
Overview
Newmont Mining Corporation, together with its subsidiaries, engages in the acquisition, exploration, and production of gold and copper properties. The company's assets or operations are located in the United States, Australia, Peru, Indonesia, Ghana, Mexico, and New Zealand. As of December 31, 2012, it had proven and probable gold reserves of approximately 99.2 million ounces and an aggregate land position of approximately 29,000 square miles. The company was founded in 1916 and is headquartered in Greenwood Village, Colorado.
Investment Thesis
With falling gold prices, companies have shifted their focus on margin management and cost reduction. In this regard, Newmont has shown success. This quarter, Newmont reported an all-in sustaining cost of $993 per ounce of gold this quarter, which fell from $1179 per ounce in Q3 2012. In the latest release of the third quarter earnings, on 31st October, Newmont reported a net profit of $408 million against $367 million in Q3 2012. Adjusted net profit for the quarter, excluding one-time items, stood at $227 million. Looking at the positive side, Newmont has started production at its Akyem mine in Ghana. The mine is expected to produce between 350,000 and 450,000 ounces of gold in the first five years of production. This is a major achievement given the problems that Newmont is encountering in its Conga project. The difficulties in the Conga project also mean that Newmont will not need additional capital for it.
Newmont also continues to spend on the development of the Turf Vent Shaft project. The Turf Vent project will improve ore grades and facilitate further exploration when it comes on line in 2015. Adding to that, Newmont continues to move forward with drilling at Long Canyon and the first production is targeted by 2017.
Also, though the Batu Hijau project is currently facing the problems of low grade ore and it is expected to persist for the rest of the year, Newmont is working through Phase 6 stripping campaign and plans to reach higher grade ore later in 2014. Upon completion of this stripping phase, it expects the gold production to increase by as much as 10 times in 2015 relative to the 2013 outlook.
Recommendation
With the price drop over the past few months, Newmont is setting up to become a great buying opportunity. The stock should try to hold around the $25-$25.50 area for a short trading period before major investment decisions should be made. Luckily interest has accumulated in the options market for the December $25 calls. At 3,474 open interests, it is safe to say that the stock will work its way back to that mark. If the stock holds that level around $25.50, it would be a great buying opportunity. The next support and resistance levels would be at $27, $28.24, $32.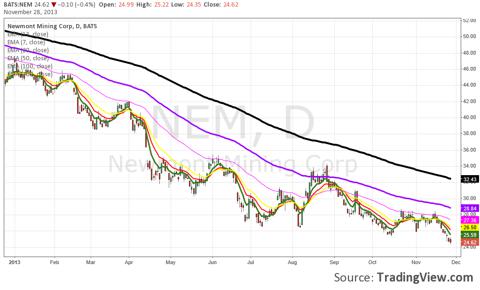 Ventas, Inc. (NYSE:VTR)
Overview
Ventas, Inc. is a publicly owned real estate investment trust. The firm engages in investment, management, financing, and leasing of properties in the healthcare industry. It invests in the real estate markets of the United States and Canada. The firm primarily invests in healthcare-related facilities including hospitals, skilled nursing facilities, senior housing facilities, medical office buildings, and other healthcare related facilities. Ventas, Inc. was founded in 1983 and is based in Chicago, Illinois with additional offices in Irvine, California; Louisville, Kentucky; Charlotte, North Carolina; and Dallas, Texas.
Investment Thesis
In 2010, there were 40.3 million Americans age 65 or older, accounting for about 13% of the total US population. Of these individuals, 5.5 million were 85 years and older.
44% of Americans aged 65 or older lived alone in 2010.
The number of Americans who need long-term care is expected to increase from approximately 12 million today to 27 million in 2050.
By 2030, when the last baby boomers turn 65, the number of Americans age 65 and older is projected to be 72 million, or 19% of the total population.
The percentage of the population that is age 85 or older is expected to grow by more than 25% by 2030 and by 126% by 2050.
Healthcare spending as a percentage of GDP is currently 18% and it is expected to increase to $5 trillion by 2021, which is 20% of expected GDP.
Ventas has had incredible growth over the last ten years, growing from just $205 million in revenues in 2003 to over $2.7 billion in the trailing 12 month period through 9/2013. Its balance sheet has ballooned from just $1 billion in properties in 2003 to over $21 billion as of 9/2013, which a big growth spurt occurring in 2011, when the balance sheet grew from $6 billion to $18 billion. This growth has come primarily from acquisitions and the current plan is to continue to make acquisitions in the $1.5 to $2 billion range. Investors in Ventas have benefited from its rapid growth to the tune of a 479% return over a 10 year period, with dividends per share growing at a 9% compounded annual growth rate (OTCPK:CAGR) and funds from operations, a popular measure of REIT performance, growing by a whopping 11% CAGR over the same period.
Recommendation
Regardless, of the outside opinions, and fundamentals, this stock is a great buying opportunity. With a 3 month chart compared to its 5 year chart, this stock is just experiencing a pull back. On the 5 year chart you will see that the stock is now, touching the 200 day moving average. If the stock starts to generate a rising bottom, this would be a trading signal of the stocks recovery. The December $65 call interests are accumulating, the open interest is over 3,000 and it is a very good indicator of the stocks growth potential.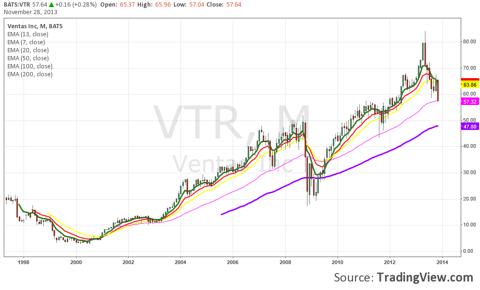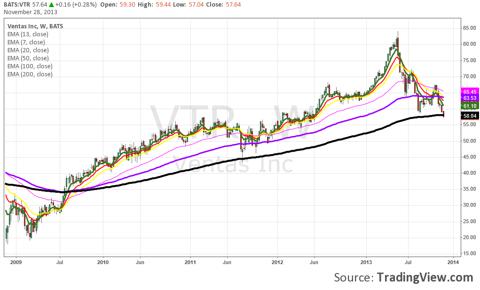 FirstEnergy Corp. (NYSE:FE)
Overview
FirstEnergy Corp., a diversified energy holding company, engages in the generation, transmission, and distribution of electricity in the United States. The company operates in Regulated Distribution, Regulated Transmission, and Competitive Energy Services segments. It owns and operates fossil, hydroelectric, nuclear, and wind and solar generating facilities. The company also provides energy-related products and services to wholesale and retail customers. It operates an electric distribution system, including 266,757 miles of overhead pole line and underground conduit carrying primary, secondary, and street lighting circuits, as well as owns substations with a total installed transformer capacity of approximately 144,776,431 kilovolt-amperes. The company distributes electricity through 10 utility operating companies within 65,000 square miles in Ohio, Pennsylvania, West Virginia, Maryland, New Jersey, and New York. FirstEnergy Corp. was founded in 1996 and is headquartered in Akron, Ohio.
Investment Thesis
Electric utility companies are under increasing legislative pressure to adopt cleaner electricity generation methods while maintaining competitive prices. This requires cleaner fuel sources, such as nuclear or wind power, instead of coal. On this point, FirstEnergy as a long way to go, given that its sources of generation are 60% coal, 20% nuclear, 11% renewable, 7% natural gas, and only 2% oil. Therefore, the company is much more susceptible to 'green legislation' than some of its major peers, like Exelon (NYSE:EXC) or Duke Energy that rely much more on cleaner fuel sources like natural gas. Regarding the company's financial performance, it has been negatively affected by weak power markets during the past few quarters. In 2012, FirstEnergy's revenues declined by 5.2% to $15.3 billion. Its EBITDA was stable from the previous year at close to $4.2 billion, reaching an EBITDA margin of 27.4% which is higher than for most of its peers. On the other hand, its net profit declined by 13% to $770 million, impacted by asset impairments. Its earnings-per-share declined by 16% to $1.84, compared to $2.21 per share in 2011. During the first six months of 2013 the company's results remained weak, leading to lower revenues, a steep drop in operating income, and a negative EPS on the second quarter. For the first half of the year its EPS was only $0.08, compared to $1.10 in the same period of the past year. Although FirstEnergy's high-dividend yield of 5.8% may appear tempting for income investors, its dividend quality is low and its risk is therefore quite high. Thus, a dividend cut may happen over the next few years, which would eliminate the only thing that makes currently FirstEnergy's stock attractive. Moreover, despite the company's weak fundamentals it is trading at almost 13x its 2013 estimated earnings and 8.7x EV/EBITDA, which is clearly not cheap and makes FirstEnergy a high-yield stock to avoid.
Recommendation
The Stock has taking quit a beating. The options interest in the December $35 Put is at 6,000, the December $37 Call is at 2900 interest and the December $38 call interest is at 1500. So what does this mean? It means that there is a spread between $37-35. More importantly if the stock can pass the $35 mark the stock would force the bears to cover their short positions. When the shorst begin to be covered this will give more momentum for the stock to make the $38 mark where it failed previously and broke down.