Source: Company Disclosure, ChinaScope Financial (Data)
+ Evergrande Real Estate Group Ltd. announced on May 7 that the company made CNY 8.19 billion in contracted sales revenue this April, up 33.1% year-on-year and 103.5% month-on-month. Meanwhile, contracted sales area reached 1.38 million square meters, up 57.8% year-on-year and 126.4% month-on-month.
+ According to Evergrande, stronger sales campaign efforts have led to the performance improvement. In April, the company launched seven new projects, raising the number of sale projects to 143.
Evergrande (3333.HK) realized significant month-on-month sales value growth in April 2012. In year-on-year terms Jan-April cumulative sales value decreased for Evergrande and increased for other developers. All companies have seen declining average sales prices.
(click to enlarge)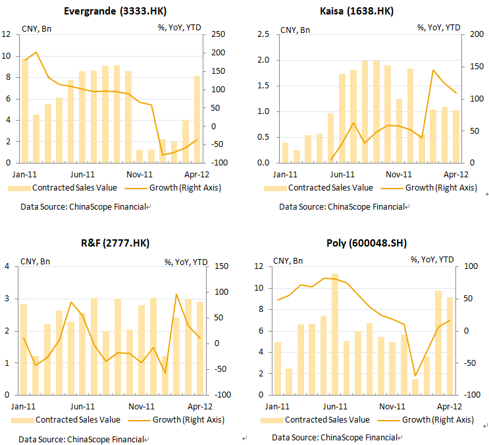 (click to enlarge)