Triumph Group Inc (NYSE:TGI), is a Pennsylvania based company focused on manufacturing and overhauling aerospace structures, systems and components. On January 29th the company's value dropped 11% when their stock fell from $77.42 to $68.4. This was following the announcement of the third-quarter results, where the company reported $915.8 million of revenue and earnings of 99 cents per share while analysts predicted a revenue of $965.9 million and earnings of $1.21 per share. Furthermore, Triumph Group Inc, reduced its 2014 revenue and earnings forecast. The result of failing to meet expectations saw the shares fall to their lowest price since January 2013 having been closing in on last July's all-time high of $83.
Two directors of the company jumped in to take advantage of the drop; Triumph President & CEO, Jeffry D Frisby, and Non-Exec board member John G Drosdick invested just over $400,000 together. Drosdick buying shares 5,000 at $68.25 while Frisby added 3,000 shares at $68.46. Whilst Frisby only increased his holding in the company by minor 4%, Drosdick's bigger purchase saw his holding jump by 50%. This was his 3rd purchase of over $250k in the last 15 months since joining the Triumph board, having bought in Nov 2012 & Feb 2013. The former President & CEO of Sunoco is also making his first discretionary purchase since taking home over $1 million from the sale of his Heinz stake in last July's takeover.
(click to enlarge)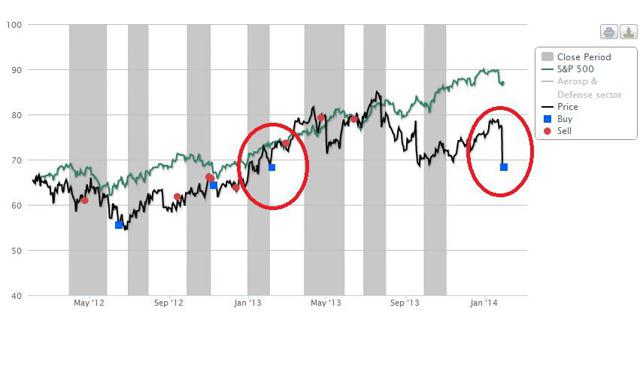 Click to enlargeThe 3,000 shares purchased by Frisby is the first since taking over as CEO that he has entered the market to buy shares in the company. His previous transactions were sales and exercise of options. This can be seen as a change of sentiment after commenting on the company's performance that Triumph was able to sustain their strong operating margins, completed the acquisition of General Donlee Canada Inc and refinanced the company's high yield debt due 2017.
It is interesting to look at Drosdick's previous transaction, when he bought on February 4 2013 shares at $68.77.That was the lowest price level for the month after the shares dropped by 5.61% , the following days after the director transaction the shares raised by 6.73% from $68.77 to $73.4. Similar to this months transaction the trade was also done within days of the announcement of Quarterly results which had seen a drop in the share price.
These transactions carried out by the directors after a substantial drop in the shares price should alert investors about the possibility of a rebound in the share price in the medium term. Academic research has shown that generally directors invest with a long term view and are very good at taking advantage of short term weakness.