Abysmal GDP numbers. Poor durable goods orders. Worst pending home sales numbers in 2 years.
The result? That market rallies. Makes sense right? It should. If it doesn't you need to knock out some options trading training asap.
Notice we didn't say options trading education. As Calvin Coolidge said "…the world is full of educated derelicts." One pops into our mind immediately…but we digress…
We see many options trading newsletters apologizing for their poor performance. These are the same ones that claimed 'How to Get Rich' in little to no time with no effort. You don't even need the basics! No "Options for Dummies" required! It's easy!
They blast out poor options strategies in their options newsletters, not smart enough to know that they don't understand what a 'strategy' or a 'tactic' is, and their lack of knowledge can get a retail trader wiped out. An option strategy is a misnomer. At Top Gun Options we employ options tactics. A strategy is higher level, an overarching goal like - managing risk, portfolio protection, short term income generation, saving for retirement, capital growth. An options strategy is not to get rich, or easy online money or how to earn money online.
Options tactics support the particular strategy. For example, if a trader wants to manage risk in this volatile environment, the tactics they could potentially employ in this low volatility environment include:
Buying puts on the SPY or SPX
Buying in-the-money (NYSEARCA:ITM) calls on the VIX, or selling bull put spreads (credit spreads), buying bull call spreads (debit spreads)
Hedging a portfolio by employing a long term diagonal on the yellow metal gold using the GLD
Preparing for Mid-East conflict by employing a bullish double vertical on USO
Trading options is not necessarily difficult. Options trading can be very easy…IF you are teamed up with the right team and properly trained. Option trading can help an investor manage risk and employ leverage to potentially profit whether the market is moving up, down, or sideways. Trading options allows you to profit in any market condition.
Here's the bottom line - You do NOT need a special trading system or trading systems. You don't need any special trading software. Period.
The only trading system or software you need is the 7 inches of gray matter in between your 2 ears.
The trading platform we use in our Primary Live Trade Brief is Trade Monster. The live trading tools are some of the best we've seen - they rival professional level trading systems. But at Top Gun Options this is the equipment we simply use to execute. An F/A-18 Hornet sitting on the deck of an aircraft carrier is useless. It needs a naval aviator - one that is trained and equipped with the mentality and attitude to succeed.
At Top Gun Options our skill-based live trading, trade alerts, and professional coaching empower traders and investors of all skill levels to take their options trading to the next level.
For example - a one day gain of over $21,000 today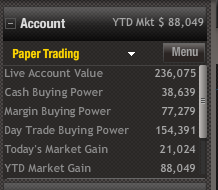 A 7 month gain of nearly 170%, or nearly $90,000 on an average of $50,000 in haircut.
What are you waiting for?
Get airborne on a test trial today…before it's too late… You're journey to financial independence starts NOW - http://topgunoptions.com/ta-ltb-services/