Strategic Mindset - The market will continue to see risk on/risk off days as we've seen for the past 2 days. Now that Q4 earnings are almost behind us and the market survived somewhat intact, traders are looking for the next catalyst that will drive this market higher or lower. As we saw Monday, basically non-news out of Europe caused a risk off day Monday followed by a relief rally yesterday. We will continue to see the market move sideways into March where we will see volatility increase and the market pullback on sequestration and the battle of the budget/continuing resolution.
Target - AAPL (456.30)
We believe AAPL will move sideways and remain range bound as traders decide if 400-500 is the "new" 500-600. AAPL and its products have become commoditized and margins will continue to come under increasing pressure as the tech giants battle it out on pricing, similar to the implosion of the airline industry.
Tactic - March Iron Condor
This neutral tactic consists of selling 2 spreads, a bull put spread (credit spread) believing AAPL will not go below a certain price and a bear call spread (credit spread) believing that AAPL will not go above a certain price.
The trade and price (credit of 1.26) is listed below, along with the probabilities of max profit, max loss, and breakeven.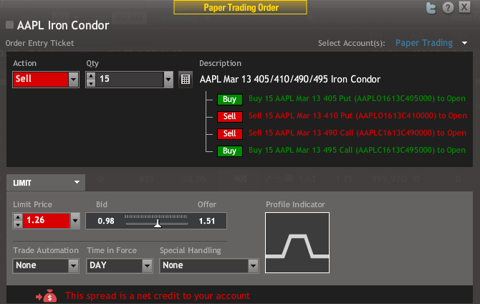 The probabilities of max loss/gain/breakeven are listed below using at the money volatility.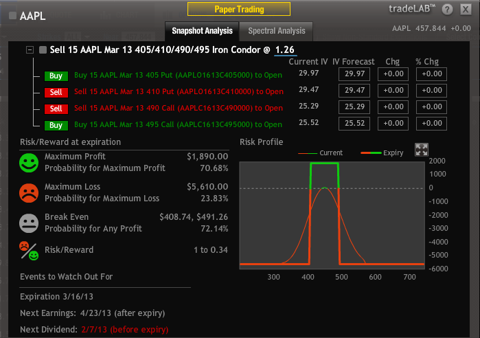 Adjustment/Exit Tactic - Since we are a net seller of this iron condor we will look for this trade to expire worthless and for us to collect a max gain of $1,890 as AAPL remains between our 2 short strikes - below the 490 call and above the 410 put.
If the trade rises in value to 2.52 (double the credit received) we will look to eject or adjust the trade, based on the velocity of the movement. We will break the iron condor up into individual spreads and if the stock is seeing significant velocity, eject from the trade.
If the stock velocity is not that high we will consider rolling a losing bull put spread down and out to April, or a losing bear call spread up and out to April, with the strike prices to be determined by the velocity.
This trade will be added to the Wealth Creation with Options model portfolio and managed in our weekly live trading session for maximum profit or exited for minimum loss. To see our portfolio manager trade live each week and see all the trades in the model portfolio, follow this link.