Strategic Mindset: Short/Medium Term Bullish
Target: CHK trading at $22.10
Commit Criteria: CHK is the second leading natural gas producer in the U.S. The company is trading at the bottom of its 52 week range of $22 to $35.95, The EIA has released a bullish report for Natural Gas and the EIA#'s should be bullish tomorrow at 10:30 a.m. Any rebound in prices should bring the value of this stock closer to its 200 day MA of 26. Earnings will be announced on the 22nd of Feb, IV should begin to rise as this date approaches.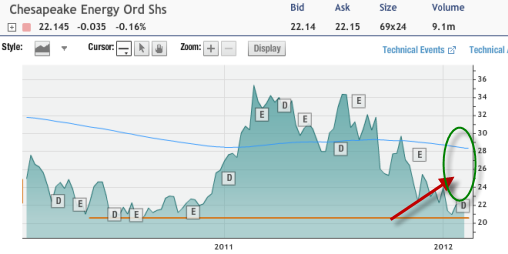 Tactic: Long Call Diagonal

Tactical Employment: Sell 10 March 26 Calls @ $.20
Buy 10 March 22 Calls @ $2.45
For a debit of $2.25 or $2,250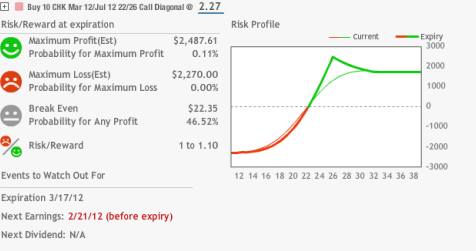 Midcourse Guidance: During the midcourse of this trade we will keep an eye out for the earnings due out on the 22nd. We will make trade adjustments accordingly as the time draws nearer. We do not expect a big surprise to the upside or downside with earnings but we must always remain cautious. We will notify all traders Primary/Intermediate traders of any trade adjustments. Keep your eyes on the Natural Gas futures market to also get a better indication on how this trade might be doing. Also, we will look to roll out the March strike to the May before the earnings announcement.
Profit Target: Our profit target on this diagonal is $2000 as we believe that the stock should settle out around the $25-25.50 mark before we say our goodbyes. Note: We might begin to trade out of half position if the stock rallies stalls out early.
Threats to Success: A major threat to success is if the Natural Gas futures collapse even further downward of $2.10 mmBTU's. Currently the NG market is trading at $2.45 and is looking to go higher.
Eject Criteria/Contingency Plan: Eject plan will be at the $1.60-1.55 level as this is a loss of just over 30% of our total out lay of capital, equaling $680-700.
Exit: To exit the trade we would buy back the March 26 calls for a debit and either roll out to another month or trade out of the second leg. To trade out of second leg you would sell back the July 22 call for a debit.
Bottom Line: This company is in command of much of the natural gas in this country, and it has been hampered due to the falling commodity prices it holds. We feel that any company holding physical commodity and extensive relationships that are concrete will have an underlying intrinsic value. Commodity Funds and money managers are eyeing this company at these levels and we shall as well.
Many of the Greeks are in our favor with this position and we are looking for a violent move to the upside with this trade.

We are currently filled on this position in the Primary/Intermediate Model Portfolio.
Happy hunting and make sure you hedge!
Whiz
Disclosure: I am long CHK.
Additional disclosure: We hold this trade in our virtual/paper trading model portfolio.