Executive Summary:
Massmart is a South African big box retailer, incorporating Makro, Game, Builders Warehouse and some other brands. It has been one of our recommended stocks since January 2004. The shares traded at R27 when we tipped them, and have paid out another R20.30 per share since then. The share price now is around R130 - an impressive return! We like Massmart's focus on low margin, low cost distribution of branded consumer goods, and the fact that they are expanding into Africa outside of South Africa. Sales and profit growth is re-accelerating as the recession of 2008 works its way out of the system. The management culture at Massmart is very disciplined and deliberate, and we anticipate that the group structure will evolve further over the years ahead.
Massmart is made up of four divisions: Massdiscounters (Game and Dion Wired), Masswarehouse (Makro), Massbuild (Builders Warehouse, Builders Express and Builders Trade Depot) and Masscash (CBW, Jumbo, CellShack and Shield). They operate across 14 sub-Saharan African countries, mostly using the Game brand, although for historical reasons there are still two Makros in Zimbabwe and CBWs in Botswana and Lesotho. Their total outlets number 256, of which 24 are outside South Africa.
The group describes itself as having "a long record of good disclosure, conservative through-the-cycle store opening plans, earnings underpinned by high cash generation and through four focused divisions, each a leader in its target market and business model."
These were the notable points from their annual results last week:
* Total sales increased to R47.4 billion, 10 percent more than last year, driven by strong gains at Masscash and a rebound at the Massbuild division.
* Trading profits year-on-year were slightly lower, although Massbuild was another bright spot, increasing profits by 14.2 percent, with Massdiscounters being the laggard, down 7.5 percent.
* Overall headline earnings per share were 6 percent lower at 567 cents, but the annual dividend was maintained at 386 cents per share. The payout has stayed at this level for the last three full financial years.
* Employment costs were up 13 percent, up to 7.1 percent of sales versus 6.9 percent last year. Costs for many South African businesses have risen, however, we have always been impressed with the way that Massmart have managed its costs. Comparable expenses were up only 2.8 percent.
* Debt levels are now 17.9 percent higher at 584 million Rands net borrowing, and this is likely to rise as the group develops larger, strategically situated Makro and Builder's Warehouse stores.
Here is the divisional breakdown of sales, from Massmart's investor presentation:
Sales

Here is the divisional profit breakdown:
Profits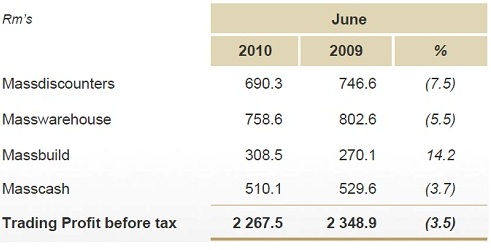 The last few years have obviously been tough ones for retailers with economic contraction, falling credit extension, rising unemployment and declining consumer confidence. Even though Massmart is a cash retailer, and does not extend credit to customers, the number of customers passing the tills has been under pressure. The general view now is that the worst is past us, and that sales are starting to re-accelerate across the industry.
The second half of the financial year (from January to June 2010) was much better than the first half (from July 2009 to December 2009). In their own words: "The South African consumer economy appears to have emerged in early 2010 from the recession that dominated 2009. This is confirmed by our second-half results, being the six months to June 2010, where the Group increased sales by 14 percent, operating profit before foreign exchange losses by 9.7 percent and headline earnings by 29 percent."
Encouraging 2nd half performance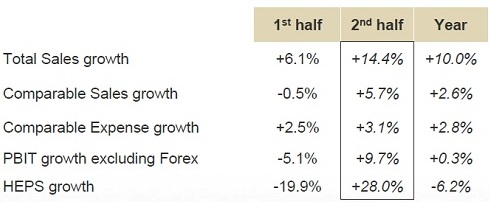 The new financial year (since July 2010) also seems to be off to a good start. "For the eight weeks to 22 August 2010, total sales increased by 15 percent and comparable sales increased by 9 percent, continuing the trends experienced for most of the second half of the 2010 financial year, specifically with strong General Merchandise and Home Improvement trading performances. In the short-term, we expect the Food and African businesses to underperform due to food deflation and the strong Rand respectively, but expect gradual improvement in both of these throughout the coming financial year."
So what about the share price? Since the depths of the overall market crash in May 2009, the Massmart share price has moved from R61.20 a share to R129 today, more than doubling in eighteen months. Is that price to high, now trading over 20 times historical earnings? Some analysts have suggested that the optimism levels are too high, and that the share should be sold here. In some Vestact client accounts, where they were overweight Massmart, we have trimmed their positions a little.
One reason often mentioned to justify the elevated share price is the idea that Wal-Mart, the world's largest retailer, is looking to enter the African market, and may do so by acquiring a local company. The two most likely candidates are Shoprite (bigger African footprint) and Massmart (similar business model). Wal-Mart have confirmed their interest in global expansion, and senior executives from Bentonville Arkansas have toured South Africa extensively, but nothing has been announced. In fact, Massmart management have confirmed that there is no deal on the table. Or under the table. Or even under consideration.
Another possible explanation for the high share price relative to earnings is the fact that Massmart has a very high percentage of foreign shareholders, who consider it to be correctly priced compared to similar companies in places like Mexico and Turkey. Take a look at this chart:
Pie chart of shareholders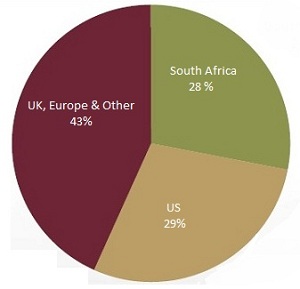 CNBC's Stephen Gunnion interviewed the Chief Executive of Massmart, Grant Pattison, last week on these and other issues. Click here to take a look at the YouTube clip, courtesy of ABN Digital.
In fact, we are not that uncomfortable with the current market valuation, and expect Massmart's earnings to grow into the share price in the year ahead. Here at Vestact we depart from the point that share prices are "right", insofar as they reflect the aggregate view of the current value of the future earnings flows that will accrue to a company's shareholders. We do expect consumer spending in South Africa to pick up smartly, and for festive season trading at the end of 2010 to be better than expected. In addition, the management culture at Massmart is very disciplined and deliberate, and we anticipate that new store openings will roll on relentlessly.
It is also likely that the group structure will evolve further over the years ahead. For example, the Builders' Warehouse and Dion Wired chains could evolve into major listed groups in their own right, comparable to Home Depot and Best Buy in the USA. In addition, tie-ups with foreign companies such as Wal-Mart, Tesco and Carrefour are certainly possible, even if no deal is imminent.

Disclosure: Long Massmart in client portfolios