Technical analysts love flags because they force a decision. Sometimes. When a price reaches the point of a flag either resistance or support are broken (in some cases) or both are broken (in the remaining cases) and the roles of support and resistance are reversed.
In the first two occasions, indecision is removed from the chart and a bullish or bearish posture is resolved from the previous indecision.
The time of decision is approaching for the KBW Bank index, shown in the following graphic from www.Chartoftheday.com.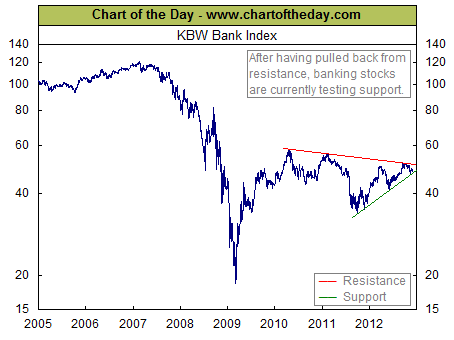 After the price passes the point at which the red and green lines cross there are three possible situations:
1. The price remains above the green line (the red resistance is broken) - resolution is bullish.
2. The price remains below the red line (the green support is broken) - resolution is bearish.
3. The price moves above the red line and below the green line (both support and resistance are broken) - resolution is indeterminate until new support and resistance lines can be defined.
An annotated chart is shown below.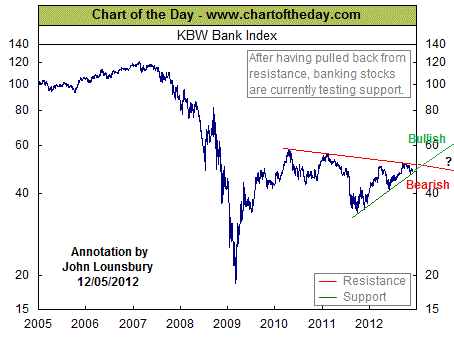 Disclosure: I have no positions in any stocks mentioned, and no plans to initiate any positions within the next 72 hours.