Business Insider has an interesting graphic today:
click to enlarge)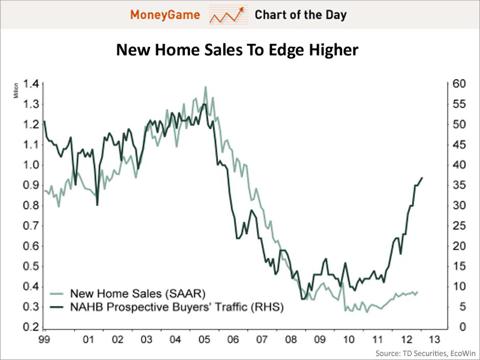 Click to enlarge
This graph inspired the headline. I was immediately reminded of the store clerk who asks the shopper: "May I help you?"
The classic answer: "No Thanks. Just Looking."
Why is this happening?
One answer is that buyers are cautious after experiencing a housing bubble collapse. Another possibility is that a lot of home owners who would like to sell are trying to evaluate the market.
Anecdotally, two real estate agents I know personally tell me that almost all showings are for possible buyers who have a home to sell before they can buy - and many do not consider making contingent offers (contingent on sale of current residence). And only a small percentage of contingent offers go to closing, much below what transpired five and ten years ago.
Housing inventories are low which should be producing more interest in new homes. The modest increase indicates that the demand for new houses remains very low, within 100,000 +/- per year of the historic lows of early 2011 - and half a million below the pre-bubble sales of 1999.
Recent headlines show some promising data:
If we really have seen the bottom for this housing cycle it appears to me that the recovery will be a long slog.
Disclosure: I have no positions in any stocks mentioned, and no plans to initiate any positions within the next 72 hours.