This past week one of the leaders in global finance, Adair Turner, chairman of the FSA (Financial Services Authority), gave a speech of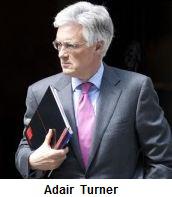 historic importance. In an address to the Cass Business School, 06 February 2013, Turner proposed that governments should use money for themselves and for ordinary citizens that is directly produced and not be restricted to that obtained via issuance of private bank credit as the global financial system has operated by and large for 100 years.
Anatole Kaletsky (Reuters) called the address an "emperor's new clothes" moment. He also said it a "truly historic speech."
This is an astounding development for those (including me) who have been arguing that the monopoly of private banking for money creation is a seriously misdirected economic policy. This monopoly is directly responsible for the mismanagement of the business cycle for the past century.
With the historic Adair Turner paper we could finally see the question I have asked for several years discussed:
Why must nations with sovereign currency pay interest to use their currency (except for that they reclaim from citizens in the form of taxes)?
Read the rest of the news article here.