An interesting graphic at 5 Min. Forecast today: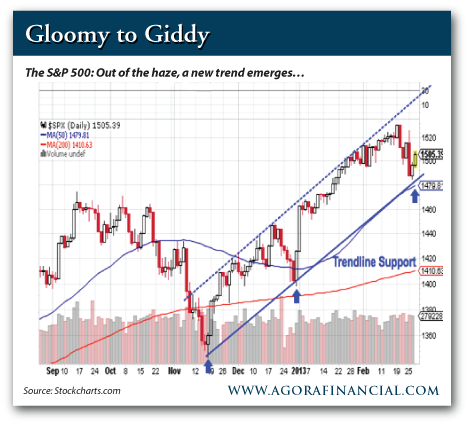 So can we put it on auto pilot?
I'll ask three questions:
1. So far the rebound from the dip is a lot less robust than the two previous cases. Is this a matter of concern?
2. What would an Elliot Wave analyst say the pattern is? Is it a-b-c-d so far with a final "e" awaiting for a peak?
3. And how many people see a half of a head and shoulders pattern emerging?
There really should be a fourth question:
How many time have you seen someone mention the potential for a head and shoulder pattern over the years that didn't ever complete?
Finally, back to auto pilot: A fool and his boat are soon parted on auto pilot.
Disclosure: I have no positions in any stocks mentioned, and no plans to initiate any positions within the next 72 hours.