Single family housing starts dropped unexpectedly in October to 529,000 from 592,000 in September.  Permits issued in October was also down to 552,000, which was 4.0% below September.  Two factors contributed:  (1) seasonally these numbers are declining this time of year and (2) uncertainty about the housing tax credit held down builders' commitments.

However, when one looks at the big picture (courtesy of Barry Ritholtz at The Big Picture - here), we can see that the latest numbers fit the recent historical pattern.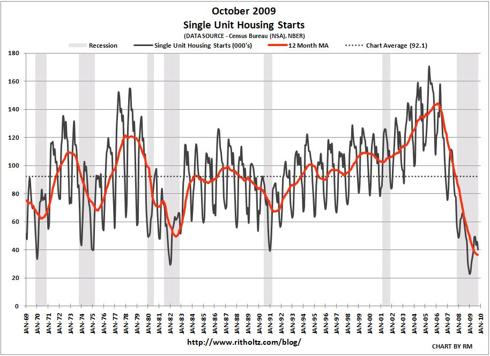 Optimists will hang their hat on the slight decrease in the 12-month average slope and the fact that the monthly curve has broken above the 12-month average.  Pessimists will point out that seasonal factors should cause both to drop again.  Realists will wait and see.

Read the news release from Realtor.org (here).