The monthly JOLTS report (Job Openings and Labor Turnover Summary) shows that there are still six unemployed people for every job opening.  The gap between hirings and a larger number of separations is narrowing, but so far it is because fewer are losing/leaving jobs and not because more are finding new jobs.  Calculated Risk has an excellent graphic:

Click on image for larger graph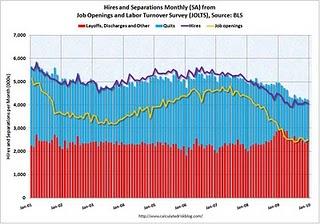 The latest data is for December.

Disclosure: No stocks mentioned.