Let's start with a conclusion from the 5 Min. Forecast: CFNAI indicates the economy is mediocre, but there is no double dip.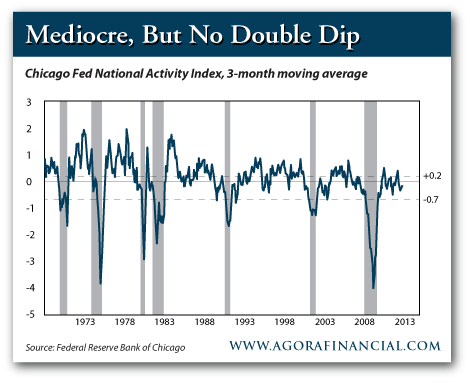 One of the problems with the Chicago Fed National Activity Index is that it is not an ideal indicator in real time because it is subject to backwards revisions for many months. It is one of the strongest historical records of the economy, but what it says about the economy as of June 2012 is going to be revised for the rest of the year.
For excellent background on how to interpret the CFNAI and what we really can take away from it right now, read Steve Hanson's excellent monthly review of this very important economic metric.
Steve's conclusion is that the preliminary interpretation of the CFNAI (before the revisions that will be coming) is the economy actually improved somewhat in June.
Disclosure: I have no positions in any stocks mentioned, and no plans to initiate any positions within the next 72 hours.