Original post Tuesday 21 August.
I'm posting the graph below without labels or any other identification. Those details will be added in approximately 24 hours.
In the meantime, if you think you know what this might be please leave a comment. Also, please let us know if you think this is a bubble.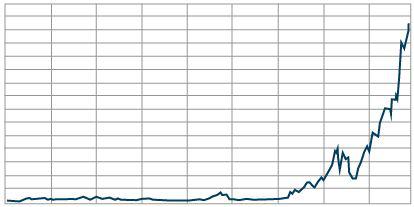 Updated Wednesday 22 August.
Okay, there are a bunch of pretty well informed readers here. The chart is for Apple (NASDAQ:AAPLY) 1986 to date. It appeared yesterday (21 August 2012) in the 5 Min. Forecast. Below is the graph they posted (same except the source is identified) followed by the excerpt from their post of the day.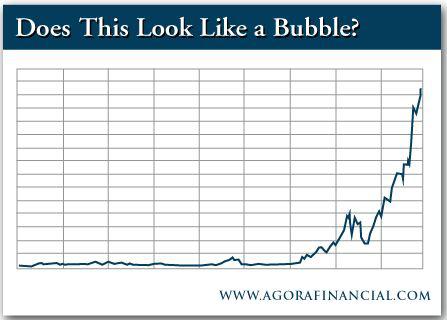 OK, the chart picks up in early 1986 at essentially zero and ends in the present day at $664… and the stock is Apple. As of yesterday, AAPL became the biggest publicly traded company ever, with a market cap of $623.14 billion.
I find the comparison of Apple 2012 to Microsoft 2000 very interesting. I hope to do a piece that discusses the similarities and the differences.
Thanks for participating in this little exercise.
PS: The guesses that were wrong were, for the most part, pretty darned good!