Deere and Co (NYSE:DE) announced earnings today. They beat both top and bottom numbers but both were down (as expected) year-over-year.
I agree with the case made by The Value Investor regarding the short- and long-term prospects of Deere. In short, Deere is in a cyclical business and sitting at or nearing the bottom of the cycle. The gloomy economic forecasts, forecasted higher interest rates, lower commodity prices, and potential return to recession all make it risk to buy right now.
The 15 year FAST Graph is encouraging if the 2016 and beyond revenues can reverse the negative trend: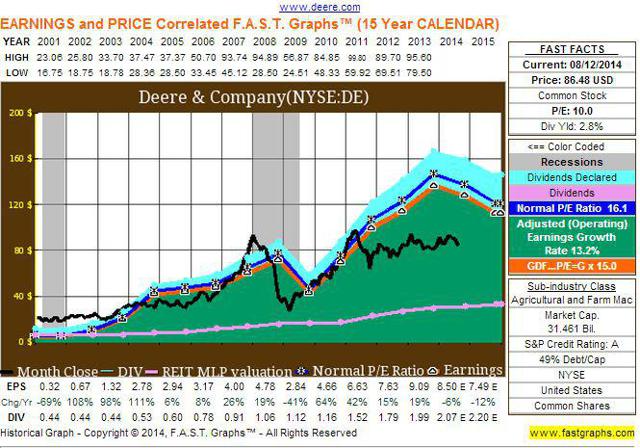 IMO the 7 year graph is even more encouraging for long-term, buy-and-hold investors as it shows below-average PE even when looking at just the last five years: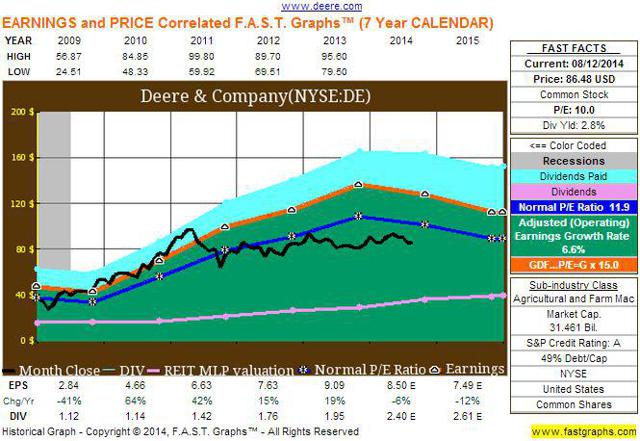 Obviously the continued lower estimates for future revenue and profit are weighing heavy on the stock.
Although I bought five lots of Deere between 12/31/2013 and 2/18/2014 and sit at a full position, today I decided to add to my Deere commitment in two ways:
Purchased another lot at $84.80 thus reducing my average share price to $87.71
Wrote the December 2014 $82.50 puts at $2.50. Allowing for commission and the September dividend, the put pays 8.5% annualized over 129 days and provides a 5.6% discount at purchase compared to buying today. The break even is at $80.51
So far I've been wrong on my timing to enter Deere; counting today's stock buy I'm down 3.7%. We will see how the puts works out in terms of free money or lower entry cost on my next Deere lot. Christmas might come a few days early this year for me and delivery a bunch of green-painted stock. :)
Disclosure: The author is long DE.