The Dow Industrial Average tested its weekly risky level again on Wednesday at 11.858.
The other major equity averages are lagging this week's risky levels at 1304.9 SPX, 2802 NASDAQ, 5331 Transports and 835.88 on Russell 2000. The NASDAQ has a quarterly risky level at 2853.
10-Year Note
– (3.329) Weekly, annual and semiannual value levels are 3.609, 3.791 and 4.268. Daily, annual, semiannual and monthly risky levels are 3.247, 2.690, 2.441, 2.322 and 2.150.
Courtesy of Thomson / Reuters
Comex Gold –
($1368.6) Annual, semiannual and annual value levels are $1356.5, $1300.6 and $1187.2 with a daily pivot at $1372.7, and weekly, monthly, quarterly and semiannual risky levels at $1409.7, $1439.0, $1441.7 and $1452.6.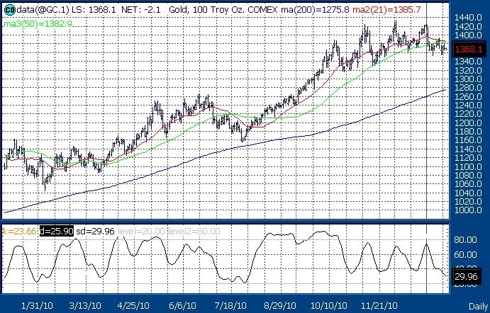 Courtesy of Thomson / Reuters
Nymex Crude Oil
–
($91.63) Semiannual and monthly value levels are $87.52 and $75.74 with daily, weekly, annual, semiannual and quarterly risky levels at $93.50, $96.45, $99.91, $101.92, $107.14 and $110.87.
Courtesy of Thomson / Reuters
The Euro –
(1.3439) Monthly and weekly value levels are 1.2805 and 1.2806 with quarterly and daily pivots at 1.3227and 1.3423. Semiannual and annual risky levels are 1.4624, 1.4989, 1.6367 and 1.7312.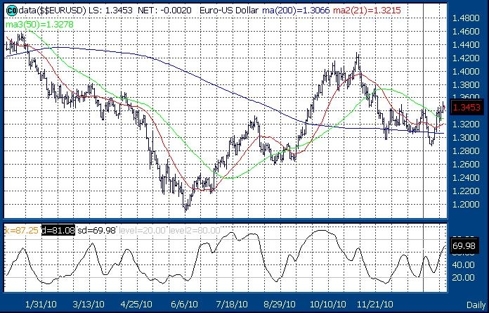 Courtesy of Thomson / Reuters
Daily Dow: (11,825)Annual, quarterly, semiannual, monthly and semiannual value levels are 11,491, 11,395, 10,959, 10,427 and 9,449 with daily and weekly pivots at 11,802 and 11,858, and annual risky level at 13,890.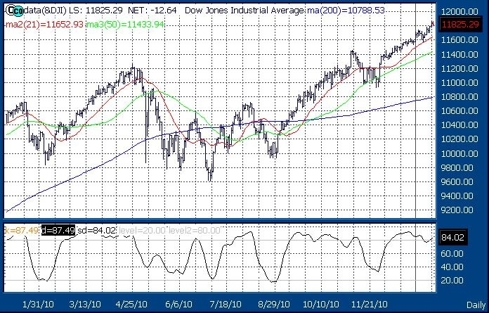 Courtesy of Thomson / Reuters
That's today's Four in Four. Have a great day.
Richard Suttmeier
Chief Market Strategist
ValuEngine.com, (800) 381-5576
Send your comments and questions to
Rsuttmeier@Gmail.com
.
For more information on our products and services visit
www.ValuEngine.com
As Chief Market Strategist at ValuEngine Inc, my research is published regularly on the website
www.ValuEngine.com
.
 I have daily, weekly, monthly, and quarterly newsletters available that track a variety of equity and other data parameters as well as my most up-to-date analysis of world markets. My newest products include a weekly ETF newsletter as well as the ValuTrader Model Portfolio newsletter. You can go
HERE
to review sample issues and find out more about my research.
"I Hold No Positions in the Stocks I Cover."