The decline yield on the 10-Year note closed on my annual pivot at 2.999. Gold is approaching my quarterly Value Level at $1140.9. Crude oil is back to my annual Pivot at $77.05. This week's Value Level for the euro is 1.2797. A weekly close for the Dow below my semiannual Pivot at 10,558 targets my annual Pivot at 10,379. The Fed's Beige Book confirms "unusual uncertainty". Stagnant mortgage applications do not justify a follow-up to June's 23.6% rise in New Home Sales. Other Real Estate Owned surged in the second quarter. I will be covering the banking system among other subjects at my presentation in NYC on Monday, August 9th at Bloomberg Headquarters at 5:30 PM.
10-Year Note
– (3.001) This yield returned to my annual pivot at 2.999 once again after failing again between my annual pivot at 2.999 and annual risky level at 2.813 for the second time in July. Semiannual and quarterly value levels are 3.479 and 3.486 with weekly and annual risky levels at 2.875 and 2.813. Quarterly and semiannual risky levels are 2.495 and 2.249.
Courtesy of Thomson / Reuters
Comex Gold –
($1160.40) Quarterly and annual value levels are $1140.9 and $1115.2 with a daily pivot at $1165.6, and semiannual, weekly, semiannual and monthly risky levels at $1218.7, $1222.3, $1260.8 and $1279.3.
The all time high of $1266.5 set on June 21st was a test of June's monthly resistance, as a significant top for gold.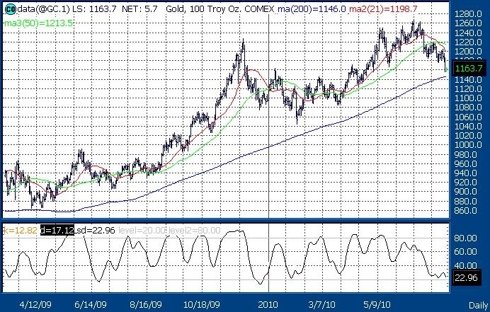 Courtesy of Thomson / Reuters
Nymex Crude Oil
–
($76.99) My annual pivot is $77.05 with a weekly pivot at $77.89, and daily and monthly pivots at $79.38 and $79.36 and semiannual risky level at $83.94. My quarterly value level is $56.63.
Courtesy of Thomson / Reuters
The Euro –
(1.2990) My weekly value level is 1.2797 with a daily pivot at 1.2933. Monthly and quarterly value levels are 1.2035 and 1.1424 with semiannual risky level at 1.4733.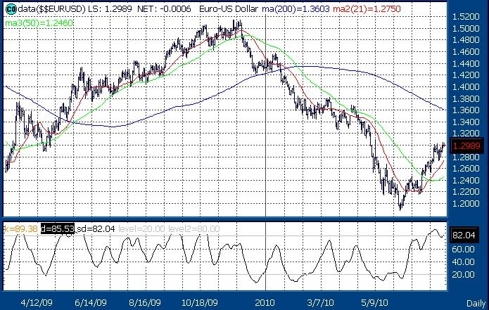 Courtesy of Thomson / Reuters
Daily Dow:
(10,498) Weekly value level is 10,212 with my annual pivot at 10,379, my semiannual pivot at 10,558 and daily and monthly risky levels at 10,638 and 10,891. The 200-day simple moving average is 10,406. My quarterly value level is 7,812 with my annual risky level at 11,235, which was tested at the April 26
th
high at 11,258. This test marked the end of the bear market rally that began in March 2009. We are in the second leg of the multi-year bear market that began in October 2007 targeting 8,500 before 11,500.
Courtesy of Thomson / Reuters
The Fed's Beige Book - The Beige Book, the gossip columns from the twelve Fed Districts, defined what Fed Chief Bernanke recently described as "Unusual Uncertainty". Some districts defined economic activity as steady or slowing. Retail sales continued to rise for necessities, but big-ticket items moved more slowly, with auto sales declining in recent weeks. Activity in residential real estate was sluggish following the expiration of homebuyer tax credits on April 30th, while commercial real estate, especially construction, remained weak. Banking conditions remained stressed with soft to declining loan demand, and tight credit standards. On a positive note labor market conditions generally improved modestly, but based mainly by temporary hiring.
Mortgage Applications - Mortgage applications to buy homes rose for the second consecutive week, but remains near a 13-year low. Refinancings remain at 80% of all mortgage applications, but they slowed last week by 5.9% despite a mortgage rate of 4.69% near the lowest in years. This weekly statistic indicates that the 23.6% rise in New Home Sales in June was not followed by a strong month in July, which is not surprising given the decline in the NAHB Housing Market Index to 14 from 17. New Home Sales even after June's surge are just above the lowest level in 47 years of record keeping.
Other Real Estate Owned Surges in the Second Quarter -
According to RealtyTrac, Other Real Estate Owned by the "too big to fail" banks; Bank or America (NYSE:
BAC
), Citigroup (NYSE:
C
), JP Morgan (NYSE:
JPM
) and Wells Fargo increased a total $9.5 billion in the second quarter year over year. OREO for the first quarter of 2010 totaled a record $46.3 billion for all banks according to the FDIC Quarterly Banking Profile, up 55.8% year over year.
Richard Suttmeier Presentation – Monday, August 9, 2010:
I will be the speaker at the Market Technicians Association Meeting to be held at Bloomberg Headquarters at 5:30 PM on Monday, August 9, 2010.
Home Prices are Set to Fall to the Levels of 1999 / 2000
Community Banks remain Vulnerable for Failure
US Stocks have begun the Second Leg of a Multi-Year Bear Market
"Buy and Trade' Replaces "Buy and Hold"
To attend please reply to rsuttmeier@gmail.com and include: first and last name, company name, address, email and phone number so that you can be pre-registered into the Bloomberg security systems for this event.
That's today's Four in Four. Have a great day.
Richard Suttmeier
Chief Market Strategist
As Chief Market Strategist at ValuEngine Inc, my research is published regularly on the website
www.ValuEngine.com
.
 I have daily, weekly, monthly, and quarterly newsletters available that track a variety of equity and other data parameters as well as my most up-to-date analysis of world markets. My newest products include a weekly ETF newsletter as well as the ValuTrader Model Portfolio newsletter. I hope that you will go to
www.ValuEngine.com
and review some of the sample issues of my research.
"I Hold No Positions in the Stocks I Cover."
Disclosure:
No Positions