ETF Blog for the Week of 8/12
Economic News Summary
Spending was mostly flat, with a slight uptick on back-to-school purchases. There was little manufacturing data, but refineries are running at 90% of capacity. Exports are higher, but domestic demand may be down, based upon the trade balance report. Wholesale inventories are down. Housing purchases are slightly stronger, but remain weak. Job openings are flat, with most losses in the federal government. Claims, however are at a recovery low, slightly changed from last week.
Economic news is not pushing the market in either direction; however sentiment is down and expectations of tapering are the pundits' excuse for why the trend has leveled.
Sentiment
Investor sentiment is slightly negative, as TD Ameritrade clients pulled back as the SPX made an all-time high. They were net sellers of fixed income instruments. Gallup's Consumer confidence index dropped; however, the Bloomberg Consumer Comfort index is at a 5 ½ year high. Bloomberg's indicator is near its long-term average.
The Market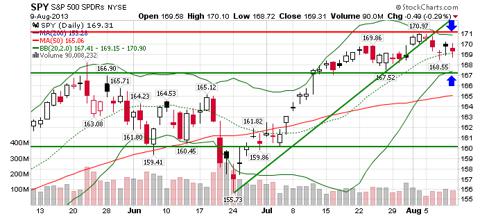 The SPY has been essentially flat for the last three weeks. There is no resistance below 167, so a negative event could technically result in a further cave-in to 160, the level at the beginning of July. The uptrend that began on June 24 was broken "by time" on July 30. The chart above shows Bollinger bands, which measure volatility, plotting the limits of one standard deviation around the price. Notice the sharp "squeeze." A Bollinger squeeze indicates indecision, as traders wait anxiously for something to happen. It is a fairly reliable indicator that the market will break out sharply from the current base, but it gives no indication of direction.
The small cap (IWM, not shown) chart is similar to the SPY chart, indicating that the current indecisive period spans a wide section of the market
The VIX closed at 13.5, suggesting that institutions aren't protecting against a major sell-off.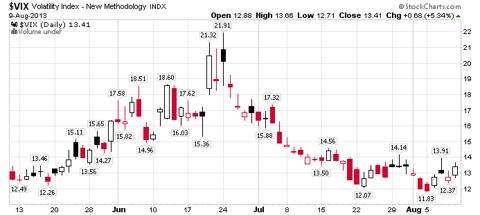 Core Relative Strength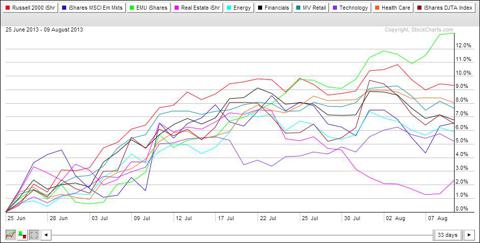 The core ETF chart reflects the leveling out and establishment of the base. Late in the week I saw action in foreign stocks (NYSEARCA:EFA) and concluded that much of the gain was due to Europe (EMU shares, EZU, green), EZU is now the leader, ahead of the small cap reference (IWM, red). Healthcare (NYSEARCA:XLV) is holding up best among the remaining Core ETF's. Note the uptick in REITs (IYR, pink). The sector is finally beginning to turn around.
Sector Relative Strength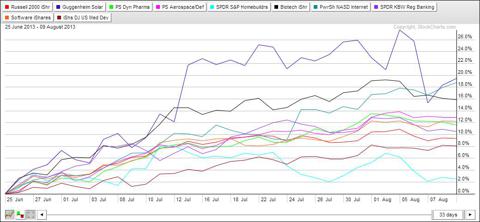 I update the ETF's in the sector chart periodically to track the best performers. Solar (TAN, blue) continues to be the most volatile, but it's not really trending. Internet stocks (PNQI, dark turquoise) are continuing an uptrend. Biotech (IBB, black) took a dip in relative strength, but remains strong.
Aerospace (NYSEARCA:PPA), software (NYSEARCA:IGV), pharmaceuticals (NYSEARCA:PJP), and regional banking (NYSEARCA:KRE) all show greater relative strength than IWM (red), but are also in bases.
Actions this week
Sold BBH, KRE, IBB, FDN, PPA, INTC (Short), Covered XLK, IWM, TAN with puts. These are still strong stocks, but I lightened the portfolio to await the next move and make room for the following purchases:
Bought RMD, EZU, DOW, IYR. RMD is up on earnings. EZU is following the recovery in Europe, and Dow is up on chemical sector strength. I am speculating that realty will now have a ally and bought IYR..
Guess on the short-term market
Pundits will start talking about doldrums, as the market continues sideways. If these conditions persist after Labor Day, I think the market will correct with some violence on news from Congress, particularly if they threaten to limit the debt ceiling. Since IWM has gone flat, I have become very cautious.
Have a great week!
Disclosure: I am long DOW, EZU, FDN, IYR, LMT, PNQI, RMD, RTN, XLV.
Additional disclosure: I am short INTC and XLK, as a precaution against a surprise sell-off.