Market Moving News (Summary of 20 articles)
Store sales were essentially flat last week. Manufacturing rose a bit in Texas, but the Durables Report was negative on both aircraft sales and broader indices. Home prices continue strong, increasing by 24% annualized in Las Vegas and San Francisco. Mortgage refinancing is plummeting, off 64% since April, on higher rates, which rose 12 basis points in each of the last two weeks to 4.8% for a 30-year. Higher rates and higher prices dropped the Pending Home Sales index 1.3% in July, after falling 0.4% in June. New Home sales fell 13.4% in July.
The (normally) market-moving GDP report beat estimates with an annualized rate of 2.5%, mainly due to an increase in net exports. Inflation is below Fed targets and was flat quarter to quarter. Corporate profits in the second quarter increased an annualized 10.6 % after dipping 2.6 % in the first quarter; however, this report is not a market mover. Initial and continuing claims fell in the week, indicating slow improvement in employment.
Collectively, I give the reports a "C" grade, and conclude that, even without geopolitical distractions, the economy is not likely to move the markets in either direction.
Sentiment Reports and Metrics
Sentiment on future manufacturing activity was slightly positive, but the Consumer Confidence report was flat, institutional investor confidence was down slightly but showing appetite for a rise, and Consumer Sentiment index was little changed; however, the weekly Consumer Comfort report snapped a rally by dropping 8.2 points since the first week of August, a very sharp decline.
The VIX is reflecting angst over all of these challenges, moving from 14 to 17 during the week. Note the uptrend that has been established as it has risen off the low.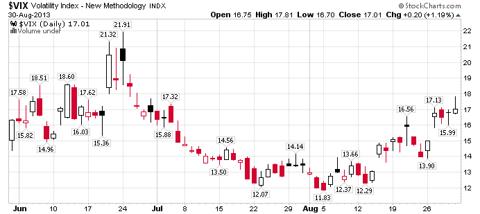 The Market (S&P 500)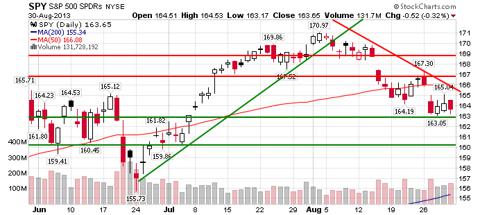 The S&P 500 ended any chance that the small "rounded bottom" noted last week would develop into a rally when Syria intervened to create the gap opening on Tuesday as Asian markets reacted to the gas attack. The week's action established a downtrend line and a resistance line near 167. If support at 163 breaks, the next drop is to 160. The chart tells me that Syria, an interest rate surprise, or Congress could push the market down; otherwise, it will go sideways.
Core Relative Strength (NYSEARCA:XLE)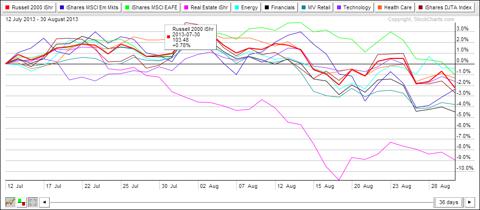 In the core chart, I used a 37-day period. Everything is headed lower. The only two ETF's that significantly outperform the Russell 2000 (NYSEARCA:IWM) are foreign stocks (NYSEARCA:EFA) and energy (XLE). I consider both of these risky next week because geopolitical events could send them sharply in either direction. Note that real estate (NYSEARCA:IYR) resumed its downward path after a brief rise. This ETF has potential when the interest rate issues become clearer.
Sectors (IBB, IGV, PNQI)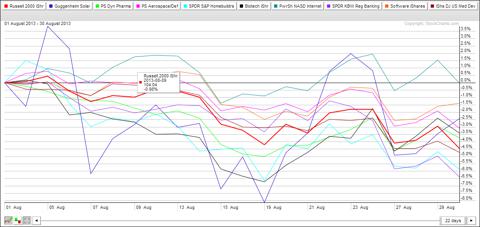 In the 22-day sector chart, you can see solar all over the graph. Software (NYSEARCA:IGV) and internet (NASDAQ:PNQI) are worth following. They are flat or slightly down, but have suffered the least from the weak market.
I am also following biotech (IBB, BBH), because while volatile, they can break higher quickly and have come off a prior strong uptrend.
Two ETF's in uptrends are gold (NYSEARCA:GLD) and natural gas (NYSEARCA:UNG). Others of interest are oil (NYSEARCA:USO) and oil services (NYSEARCA:OIH). I generally avoid these, particularly when gold and oil are tracking each other, and subject to geopolitical actions. Perhaps UNG will rally longer term as the U.S. starts exporting more natural gas and supplies tighten. I don't really understand these markets, so I tread lightly.
Trades Last Week
Last week was a whiplash, as ETF's I bought on Monday were taken out by the sharp Tuesday drop.
Sold: FDN, XLK, PPA, IWM, IBB, and IYR. My portfolio is flat.
Guess on the Near-Term Market
Most ETF's are trendless. Absent external factors, I would guess that any Fed tapering will be light, with the goal of allowing markets to drift higher and avoiding any significant money supply reductions. The market seems to be recovering from Fed-statement jitters, given that there aren't likely to be releases in the next few weeks.
Last week, of course, Syria added uncertainty and I suspect no one wanted to go into the holiday with high portfolio risk. The drumbeat over potential debt ceiling fights and continuing to fund the government without a budget continues, so I don't expect a September rally.
Writing just after the news that Congress will now debate Syria, I'll guess that the market will continue to be unstable and trendless while the debates rage.
Have a great week!
Disclosure: I have no positions in any stocks mentioned, and no plans to initiate any positions within the next 72 hours.