Market Moving News Summary on 9/13
It was a rare week with no manufacturing statistics. Retail sales were mostly flat, but autos, household durables and electronics were strong. Wholesale inventories were lower and higher in conflicting reports, except autos, which were higher. Ex petroleum, import prices were lower, a 4th straight monthly decline. Petroleum was 0.8% higher. Producer prices increased on food and energy, rising 0.3% after a flat July. Ex food and energy, prices were flat.
Home loan applications dropped on a rate rise and refinancing fell 20% in the Sept. 6 week. The average of 30-year conforming loans rose to 4.8%, up 120 basis points from early May. Job openings fell slightly in July, down from June; however, claims dropped by 31,000 to 292,000, a recovery low. The 4-week average and continuing claims are also at a recovery low.
Overall, the economic data points to a sluggish economy slowly improving.
Sentiment Reports and Metrics
The TD Ameritrade Investor IMX index moved higher in August after a dip in July. They treated the recent S&P 500 from its August high as a buying opportunity, increasing equity exposure.
Small business optimism was unchanged, but sales expectations and hiring plans were higher, amid a decline in earnings trends and economic expectations. The index reached a recovery high.
Consumer comfort flattened, halting a 5-week late-summer decline. Conversely, the Consumer Sentiment index has fallen to its lowest level since early in the year, for reasons unclear. Expectations showed the most weakness, but one year out, the outlook is slightly higher.
The VIX
(click to enlarge)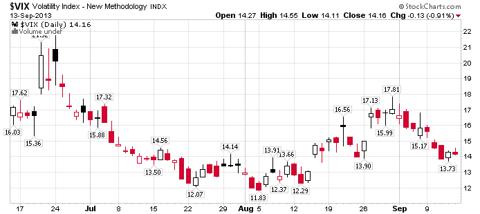 Click to enlarge
The VIX seemed to react to the probability of a Syria attack, and has fallen back to "normal" over the past two weeks.
The Market (S&P 500)
(click to enlarge)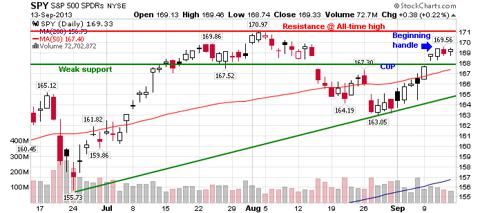 Click to enlarge
Last week, we were watching whether the SPY would clear a gap. It did so by Tuesday and has now formed the beginning of a bullish cup-and-handle that spans 31 days. In theory, the price should now drift back about 15% to 168.5 over about a week and then break higher. The drift down clears out "overhead" of buyers who bought around 170 and are waiting to get out at break even.
Core Relative Strength
(click to enlarge)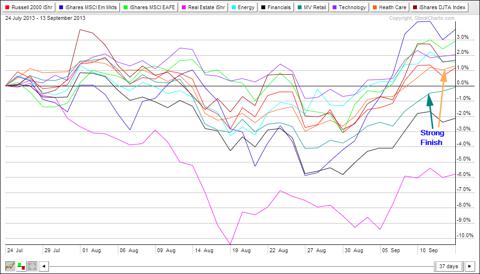 Click to enlarge
The chart above spans 37 days, over which the market dropped and recovered. The strongest stocks have the least drop and strongest rise over this period. In the core list, real estate (NYSEARCA:IYR) is building a base, but still lags. Healthcare (NYSEARCA:XLV) and retail (NYSEARCA:RTH) had strong finishes at the end of the week, as did foreign stocks (NYSEARCA:EFA). Note that technology (NYSEARCA:XLK) had the least dip and remains the strongest over the period. Although volatile, it's getting harder to ignore the strength of emerging markets (NYSEARCA:EEM).
Sector Relative Strength
(click to enlarge)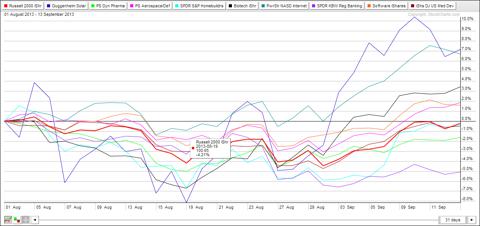 Click to enlarge
Among the sectors I'm currently following, solar (NYSEARCA:TAN) continues its volatile behavior. My preferences for stops are generally too tight to make money in such a stock. The solar sector is very strong, and I'm hoping that as the industry matures, volatility will subside.
Internet stocks (NASDAQ:PNQI) had a strong run that flattened out just as I was getting ready to buy. I'll go into these on an upside breakout. Biotech (NASDAQ:IBB) continues to move higher. Aerospace (NYSEARCA:PPA) is strong, and I'm in Lockheed (NYSE:LMT), which has been acting well. The remaining ETF's underperform the small caps, so I don't consider them.
Selected Top 10 ETF's by Relative Strength
BJK, UNG, EWZ, DBA, EEM, IBB, EZU, MOO, SMH, IHF
I monitor over 35 ETF's and update the sector chart with ones I like. In a rising market, I go through all of them and measure the top ten. You can copy the list above, paste the symbols into the StockCharts.com PerfChart application and set the slider to 31 days to get the chart I used to create the list, which orders the symbols in decreasing relative strength.
Although not included in the list, I now own SOCL, a relatively new ETF that covers social networks. With Linked-In and Facebook doing well and Twitter going IPO, SOCL may be a winner.
I will be tracking the stocks in the list looking for breakouts, considering levels of support and resistance, and whether the price is traversing a gap, to make buy decisions.
Trades Last Week
Bought DAL, SOCL, ARMH, PNQI, LMT, added to SMH
Sold DAL, ARMH, PNQI, IWM
Holding SMH, XLV, SOCL, XLI, INTC, WFM, LMT
Guess on Next Week
I expect Syria issues to be less prominent as much talking ensues; however, but Congress is back, and must take votes without which the government could shut down, or the debt ceiling could fail to be increased. While bullish, I may cover existing positions with puts or sell them if these events become more probable.