Market-Moving News: Summary of 18 Articles
Overall economic news last week was balanced, but likely irrelevant to market action, as traders didn't seem to know how to react to it. Beneath the threat, the market wants to climb, and news of an agreement, particularly if it includes the debt ceiling, could touch off a big rally.
Vehicle sales fell a sharp 5.1 % in September, following a 1.8 % rise the month before, mostly due to trucks. Annualized sales are up 3.4%. Retail store sales were little changed in September.
New manufacturing orders in the Chicago area accelerated, rising 1.7 points on the Chicago Fed metric, and production rose 5 points for the best level since May. The Dallas Fed also reported expansion as their production index rose from 7.3 to 11.5. Capacity utilization rose 6 points to 10.7. The general business activity in Texas rose 8 points to 12.8, a 1½ year high. The employment reading was positive, indicating new hires. The PMI manufacturing Index was about the same as at the beginning of September, but down from August, indicating that not all regions are as strong as Chicago and Dallas. PMI employment growth slowed in August. New orders were strong, but down slightly from August.
The ISM Non-Manufacturing Index slipped from 58.6 to 54.4 in September, indicating slowing in composite activity. New orders were slightly below a strong august level.
Mortgage interest rates fell during the last two weeks; however applications also fell 6% in the 9/27 week. Refinancing applications rose for the third week, up 3%. The average 30-year rate is 4.49%, the lowest since June.
The very important Employment Situation report was delayed due to the government shutdown. ADP reported weaker private payroll growth to 166K, vs. expectations of 180K. Prior to the shutdown, the Job Creation Index read 21 in September, vs. 22 in August. Challenger layoff announcements fell to 40K from 50K in August. The government and financial sectors had the most reductions. Initial claims were little changed during the 9/28 week, and the 4-week average continues at a recovery low. The continuing claim average is also trending lower.
Sentiment Metrics
The Bloomberg Consumer Comfort Index fell after a modest 3-week advance, but had its best quarter since 4Q 2007. The Shutdown is the probable cause. Historically, sentiment bounces back after similar crises.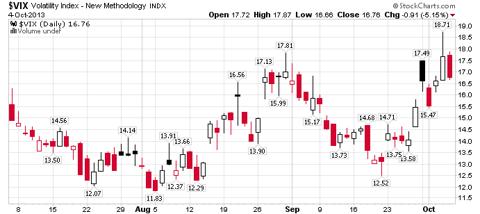 As you might expect, the VIX has been rising as institutions add protection with options on the S&P 500 index (SPX). Strangely there was a sense or rumors that there could be a weekend announcement of an agreement, which could touch off a rally, causing a drop in the VIX.
I believe we can expect continued eroding of sentiment as the shutdown drags on.
The Market (S&P 500)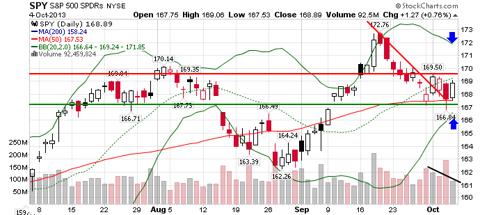 The market was level and choppy all week, causing the SPY to break its down trend by time, as the chart established a 5-day base above 167. There is support at this level back in August. A break could see a drop to 162, the September low. Notice that the Bollinger bands are pinching down. I suspect the pinch will continue until news causes a major break like the one that occurred on August 16.
Small Caps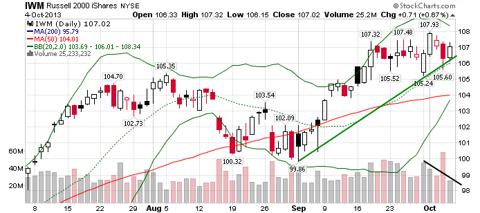 Once again the price action on small caps (NYSEARCA:IWM) is much stronger than the S&P 500; in fact, the prior uptrend has been touched but not broken.
Core Relative Strength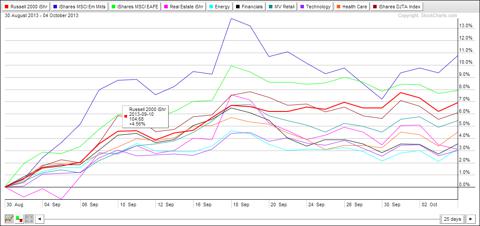 A 25-day chart shows the relative strength of the major market sectors. As was the case last week, only emerging markets (NYSEARCA:EEM) and foreign stocks (NYSEARCA:EFA) outperform the small caps (IWM). Since IWM is more or less flat, we won't get a buy signal until the price breaks above 108. Nothing on this chart is showing a buy signal. Most rallies are likely to fail.
Key Sectors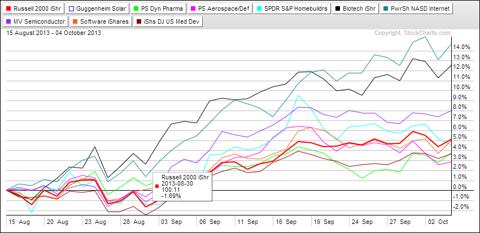 The sector chart shows Internet (NASDAQ:PNQI) and biotech (NASDAQ:IBB) as strongly outperforming IWM. PNQI is in an uptrend, and while its price is volatile, I will buy it if I see continued upward pressure next week. IBB was mainly flat last week, but is also a buy on a breakout.
In other funds of interest, solar (NYSEARCA:TAN) had a strong move higher and leveled last week, and gaming (NYSEARCA:BJK) looks like it's breaking out.
Trades Last Week
Last week I indicated I would hold back, and did so except for some day trades and the following: I sold puts on XLI as they expired on Friday. This is a gamble on something happening over the weekend. I bought and sold IYR.
I plan to stay mostly in cash until IWM or other major segments go into uptrends.
Guess on Next Week
Last week, the market didn't fall as much as I expected; rather it established a base that most ETFs and stocks exhibit. Some of these are very tight. The optimistic and probable scenario is that the stalemate breaks and the market roars higher. Because attitudes in Washington have become very hard, I believe little of what I hear, and expect that any day could bring a big positive or negative surprise. If the markets break higher, I will buy IWM, BJK, PNQI, IBB, and possibly TAN and DAL.
Disclosure: I have no positions in any stocks mentioned, and no plans to initiate any positions within the next 72 hours.