Market Moving News: Summary of 21 Articles
Store sales are mixed, with ICSC Goldman reporting a jump last week, but Redbook reporting a third week of slowing. Construction spending in August was up, led by private residences. Public spending on construction also rose. Overall, construction is up 7.1% for the year.
Manufacturing has slowed, and new orders remain soft generally, but some sectors are reporting projected improvements. The government shutdown was a factor. Foreign demand for U.S. securities has been soft, with outflows in six of the past seven months.
Foreigners sold U.S. securities and treasuries during the last two months. China and Brazil have held their ownership flat; Japan has been buying. U.S. accounts have increased purchases of foreign securities. There is evidence that the government shutdown and the political wrangling over several months were factors. The trade gap widened slightly due to non-petroleum goods. Global trade is sluggish, affecting orders to U.S. manufacturing, but the petroleum gap is steady.
Existing home sales have been flat for two months, down 1.9% in September. Supply is declining, as are prices-slightly. Annualized sales are up 10.7%. Purchase applications are up slightly, mortgage interest rates moved lower with the average 30-year mortgage down 7 basis points to 4.39 %.
The jobs picture is stagnant. Growth was below expectations, although the unemployment rate fell to 7.2% from 7.3% in August. The pool of available workers is smaller. Private payrolls show declining gains. Wage growth is down. Jobless claims were 350,000, 40,000 above the mid-September number. The 4-week average is also higher. Continuing claims were down, but their 4-week average rose.
Sentiment
Consumer confidence continues to fall, as the Consumer Comfort Index hit a 9-month low; however the rate of decline was lower last week. Recent sharp declines are similar to the index behavior at the time of previous government shut-downs.
The Consumer Sentiment Index also fell sharply to 73.2 from 75.2 at mid-month, and from 77.5 in September. Falling gasoline prices are lowering inflation expectations.
The VIX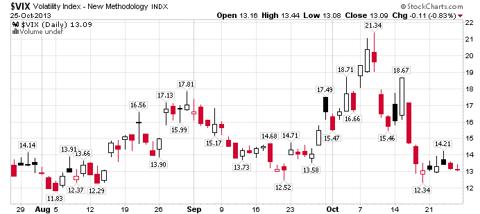 The VIX settled into "complacency" near 13 for the week, indicating that while consumers may be worried, investors are not. Traders seem to think that as long as the Fed is not tapering, the market is safe.
The Market (S&P 500)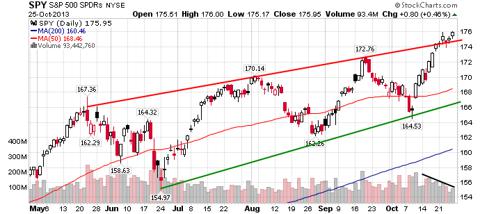 Note sharp reduction in volatility during the last six days, as effects of the shutdown waned. The trend rate dropped somewhat, but the SPY penetrated the resistance trendline established by the last three highs to close on Friday at an all-time high. Volume fell steadily, an indicator that this rally may be losing steam. There is little support above the 168 area.
Small Caps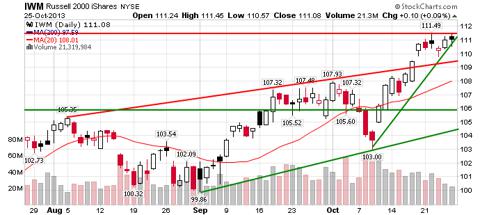 The IWM has a similar but flatter shape, yet it closed at an all-time high on Friday. A trend failure could drop the index to the 106 area. Again, note falling volume.
Core Relative Strength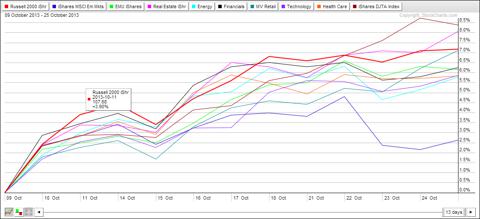 With the exception of emerging markets (NYSEARCA:EEM) everything is up; however, only two funds exceed the performance of IWM, real estate (NYSEARCA:IYR), and transportation (NYSEARCA:IYT). In this chart, I substituted Europe (BATS:EZU) for international stocks (NYSEARCA:EFA). EZU went flat last week, but I'm watching reports that European economies are improving.
Sector Composite
I follow 36 ETF's, and this week quite a number outperformed IWM. The following chart is a select list of the strongest ones: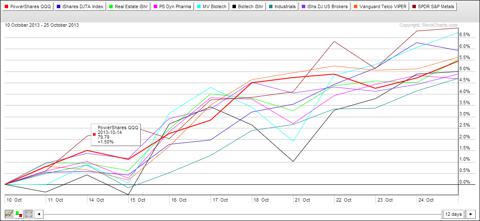 In this chart, the reference is the Nasdaq 100 (NASDAQ:QQQ), which was the strongest major index during the week, outperforming IWM and several of the ETF's in the chart. Metals & mining (NYSEARCA:XME) is in a particularly strong trend. Biotech (NASDAQ:IBB) is also volatile, but had strong performance on Thursday and Friday.
The difference in performance among these ETF's varies from a low of 4.5% to a high of 6.6%. Over many weeks, this is an enormous difference, but the trends are unlikely to remain static over a long period, and volatility can create large losses. In my view, the least volatile funds are more likely to hold their trends longer, because the stocks in them won't rise so fast that they become shorting opportunities.
My first choice in this group is industrials (XLI, dark cyan), which broke out on October 15, and steadily gained strength with little volatility on good earnings from large companies. The next is brokers (IAI, lavender), followed by telecomm (VOX, lavender). Metals (XME, brown) can be volatile, but has a strong trend. If its trend continues, the next would be biotech (IBB, black), and finally real estate (IYR, green). I already own QQQ, and may buy more.
The buy candidates in order are XLI, IAI, VOX, XME, IBB, and IYR. Delta Airlines (NYSE:DAL) is also of interest.
Trades Last Week
I did not add the candidates from last week, because other ETF's were showing strength
Holding: SMH, XLV, QQQ, IYR
Bought: INTC, QQQ, DAL
Sold: XLK
Guess for Next Week
The six-month SPY chart shows the market to be near the top of a cycle. Nothing says prices cannot keep rising, but traders get nervous at new highs, and may initiate selling on a negative news item. Next week, much of the action will be earnings-driven. The only threat I see is that a failure in a bellwether could trigger a sell-off, given the amount of run-up over the last month. Otherwise, I expect the current trend to continue.