Market Moving News: Summary of 21 Articles
The industrial production report indicated flat manufacturing. Capacity utilization rose to 78.3% from 77.9%. The Texas region increased output at a faster pace, with employment growing. Indexes for future activity are positive, but foreign demand is soft. The ISM report, however, posted 60.6 in new orders, a very good reading, and 57 in foreign demand (above 50 is accelerating). The combined reports suggest soft, slightly bullish conditions.
Pending home sales fell 5.6% vs. August. The index is down 1.2% annualized. The National Association of Realtors blames the shutdown. Existing home sales are slightly stronger, held back by higher prices and thin supply. The case-Schiller index increased at 0.9%, 12.8% annualized. Declining rates led to a rise in mortgage applications, up 9% in the lasts week. The 30-year rate fell 6 basis points to 4.33%, the lowest rate since June.
Store sales have picked up, with Halloween a factor, but the Retail Sales report showed a headline slip, mostly due to autos and gasoline. Core sales were up slightly.
Producer inflation declined 0.1% after rising 0.3% in August. The core rate was up 0.1%. The annualized rate was 0.3%. Consumer inflation rose .2%, matching expectations and the core held below views at 0.1%. CPI inflation is 1.2% annualized. Some pundits are speculating that because deflation continues to be a risk, quantitative easing will continue well into 2014, as long as the jobs picture is poor.
Employment numbers are still skewed by data problems. The ADP report showed lower payroll growth, and claims came in at 30,000 above last month's trend. Continuing claims were up 30,000 for the week.
The Treasury posted a large $75.1 billion surplus in September, as the annual deficit for fiscal 2013 fell 37% to 680 billion. Most of the improvement came from increased tax receipts (13%). Expenditures declined 2.3%.
The Fed stayed the course on policy Wednesday. Quantitative easing is unchanged--no taper yet. Policy rates remain unchanged with the fed funds target at a range of zero to 0.25%. Guidance is unchanged at 6.5% unemployment and 2.5% expected inflation as thresholds for considering changes in policy. Inflation persistently below target poses risks to the economy. While employment showed some improvement, the unemployment rate is still elevated.
Sentiment
The government shutdown dropped consumer confidence by 9 points (11%) to 71.2, the largest dip since the January 2013 drop, caused by another fiscal standoff. As weakness was mostly in expectations, this metric could rebound. Those describing jobs hard to get rose 2.2%. The Bloomberg Consumer Comfort index hit its lowest level in more than a year, dropping 4.4 points amid the shutdown. This index has fallen 21 points below its long-term average. There is a large gap between those with high and low incomes.
The shutdown also dropped investor confidence, as the State Street investor confidence index fell to 95.7 from 101.3. The North America number dropped 18 points to 86.5. The 100 level is breakeven, below which investors move to safety. Europe, in contrast, was at 111.9, a recovery high, indicating that the worst of the Eurozone crisis has passed.
The VIX remained between 13 and 14 over the past two weeks, showing little fear in the market.
The Market (S&P 500)
(click to enlarge)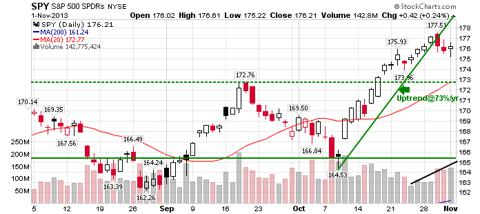 Click to enlarge
The SPY broke a 3-week uptrend at 73%/year on Wednesday in reaction to the Fed announcement, dropped 1.36%, but caught itself on Friday, forming a doji candlestick. Volume increased sharply. With sentiment numbers negative and the index at an all-time high, the reaction is probably an adjustment that will fall short of a "correction," defined as a 10% drop.
Small Caps (NYSEARCA:IWM)
(click to enlarge)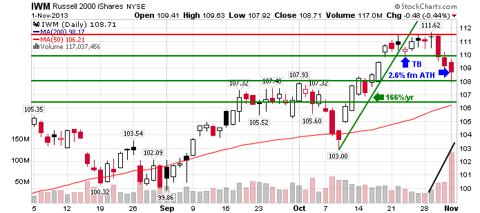 Click to enlarge
In sharp contrast to the SPY, the Russell 2000 small cap index (IWM) broke an upward trend of 166%/year last week, six days ahead of the trend break in the SPY. The base drifted higher until Tuesday. Note the two spinning tops followed by a doji, indicating indecision, followed by the big-body candle on Wednesday, a bearish pattern. Like the SPY, the IWM caught itself on Friday, but still finished at a lower high. The close is at the 20MA (not shown). If weak support at 108 breaks next week, expect a drop to the 50MA, where there is prior congestion. The sharp spike in volume took place on the last day of the month, probably an indication of window dressing. This broad-based index is weak.
Core Relative Strength
(click to enlarge)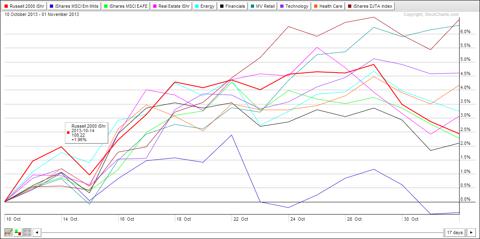 Click to enlarge
The core relative strength chart gives a good profile of the market, showing sharp drops in real estate, small caps, and financials, and mediocre performance in emerging markets. Healthcare is flat; energy is down, as are foreign stocks. Technology (NYSEARCA:XLK) seemed to hold its own, and retail (NYSEARCA:RTH) and transportation (NYSEARCA:IYT) actually rose in relative strength. RTH and IYT are in tight bases and could be bought on breakouts.
The strongest ETF's have gone into bases, weaker ones into downtrends.
Sector Composite
The vast majority of other sectors are in downtrends. The strongest funds are airlines (DAL, UAL), metals & mining (NYSEARCA:XME), and aerospace (PPA, LMT, BA, and LLL). Biotech (IBB, BBH) has fallen off, but remains high in relative strength.
Trades Last Week
Sold: SMH, XLV, QQQ, IYR, XLI
Bought: XLI, LLL, ILMN
Holding: LLL, ILMN
LLL, BA, and ILMN have been strong. ILMN makes gene sequencers for biotech companies and its business is expanding. I will keep it a long-term play, going in on uptrends until stops are hit. Level 3 Communications is a strong aerospace/defense stock.
Guess for Next Week
The economy is close to neutral, and is not pushing the market higher. Consumer sentiment is down, at least momentarily, largely due to caution from the shutdown. Earnings were mixed, but where good reports or surprises came out, individual stocks and some sectors showed strength. The low VIX suggests that any drop from current levels is likely to be shallow.
I don't expect the market to rally until the Russell 2000 breaks its downtrend and goes at least into a base. I may take short-term positions in PPA or BA, and I will watch biotech for uptrends. The market is weak and significant bad news could trigger a 2-3% drop.