Market Moving News: Summary of 21 Articles
Gallup's survey of personal spending improved in October, but remains below the high in August, which was the 5-year high. Projections for holiday spending remain at levels before the government shutdown. October retail sales are level. Personal income gained for the second month; however growth in wages and salaries slowed slightly. Inflation is soft at an annualized rate of 1.2%, below the Fed's 2% target.
With the exception of volatile aircraft orders, core factory orders down .2% after a .4% drop in August. Other economic numbers were stronger. The ISM non-manufacturing report rose to 55.4 in October from 54.4 in September. New orders fell from 60 to 56.8.
The lower deficit has cut Treasury borrowing needs, and sizes of 2-year and 3-year auctions are reduced.
The GDP report was positive but mixed, as much of the 2.8% 3Q growth (higher than 2Q) came from inventory builds. Personal consumption expenditures (PCE's) slowed, import growth decelerated following a 2Q jump. Exports grew at half the 2Q pace. Overall demand softened. Inflation rose slightly, ahead of expectations.
Housing is down, as mortgage applications fell 5% in the 11/1 week, reversing small gains of the two prior weeks. The index is at its lowest point of the year. Refinancing fell 8%; rates were little changed at 4.32%.
Layoffs are up as Merck announced a large workforce cut and governments reported lower hiring. Gallup's job creation index dipped to +19 down from +21, the lowest level since April. Federal and state government hiring fell, and Gallup's unadjusted unemployment rate for the U.S. workforce declined to 7.3% in October, from 7.7% in September, continuing a three year trend of broad decline after a brief spike in August. In contrast to the above, claims fell 9,000 in the November 2 week to 336,000, the 4th decline in a row from a 373,000 peak in early October. The 4-week average, after 4 straight large gains, turned lower, down 9,250 to 348,250.
The widely-followed Employment Situation report showed total payroll jobs in October increasing to 204,000, a number that got the market's attention on Friday. However, the unemployment rate firmed to 7.3% after dipping to 7.2%in September, and wage growth was slight at 0.1%, the same as the prior month. The unemployment rate may have been higher due to furloughed government employees who reported being out of work.
The overall news environment is flat to down, but the Employment Situation report triggered a 140-point rally on Friday.
Sentiment
Gallup's Economic Confidence Index fell 16% to -35 in October, the sharpest drop since 2008 (its inception). Confidence rallied somewhat at the end of the month. This measure closely tracked the shutdown/deficit crisis, but is only slowly recovering. In October, 68 percent of Americans said the economy is getting worse-the highest such percentage in nearly two years- while 28 percent said it is getting better.
The Bloomberg Consumer Comfort Index flattened this week, easing off from a five-week decline that has taken consumer sentiment to its weakest in 13 months. Based on Americans' views of the economy, the buying climate and their own finances, the index has lost 9.8 points since just before last month's government shutdown and 14.4 points from a more-than five-year high in early August, landing at minus 37.9 on its scale of minus 100 to plus 100-a level not seen since early October 2012. The worst CCI component is personal finances.
The Consumer Sentiment Index continues lower, to 72 in November vs. 73.2 at the end of October. The worst component is expectations, down steadily since July.
The Market (S&P 500)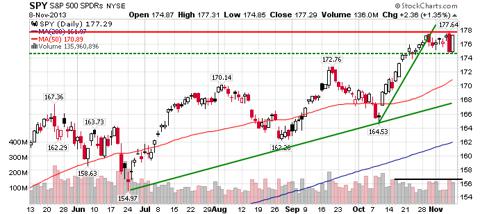 The S&P500 chart shows the break in the sharp secondary uptrend and a new trading range, defined by Thursday's and Friday's action. Support in the 175 area is weak. The big-body candles suggest uncertainty. If volume falls from here, the bottom may become set, and the market will trade in a range before going to new highs (assuming no significant negative news).
Small Caps (NYSEARCA:IWM)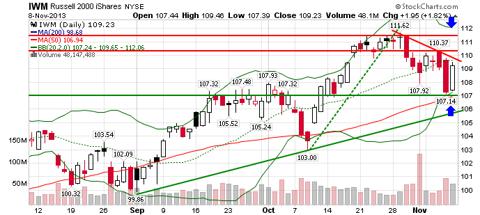 As you can see, small caps have borne the brunt of selling, with what may be a blow down bottom just above 107. The only reason for this IWM behavior that I can think of is negative sentiment among consumers and worry about the economy. This group is less sensitive to interest rates than large caps. Notice that the Bollinger bands are pinching down. This is a sign of indecision that usually leads to a breakout-up or down. I'll be looking for both a break in the downtrend near 109.5 and a break in resistance at 110.4 for signs that the market is back in an uptrend. If, however, IWM breaks the primary uptrend below 106, we could see a sharp sell-off.
Core Relative Strength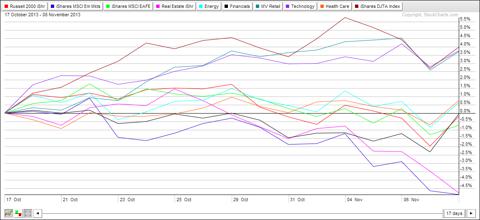 The core ETF relative strength chart shows three funds maintaining strength, and seven losing it continuously over the last 17 days. Tech (NYSEARCA:XLK), Transportation (NYSEARCA:IYT), and Retail (NYSEARCA:RTH) are all candidates for purchase if the market moves into an uptrend. Real estate (NYSEARCA:IYR) and emerging markets (NYSEARCA:EEM) are in bad slides. Because it has been a steady, non-volatile performer, my next choice would be healthcare (XLV, orange), which combines hospitals and drug companies.
Sector Composite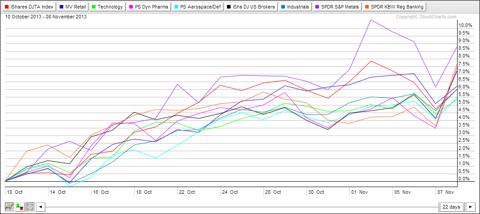 A review of the best performing ETF's in my list of 36 shows metals (NYSEARCA:XME) as the leader, gaining 8.5% in the past 22 days; however it is so volatile that it tends to trip my stops. Retail (RTH) may be a steadier performer, but be careful if Christmas shopping results are poor. Pharma (NYSEARCA:PJP) and Aerospace (NYSEARCA:PPA) have been steady during the recent sell-off and are buy candidates. Note that regional banking (KRE, orange) had a very strong day on Friday. PJP and KRE are at new highs.
Here's a summary the key stocks to follow next week: IWM, XME, RTH, PJP, PPA, KRE, IYT, XLK
Trades Last Week
Sold: LLL, ILMN
These and other stocks rebounded strongly on Friday. I'll be looking to reenter ILMN, CREE, LMT, LLL, BA, and DAL, if the opportunity is available, as well as the summary list above.
Guess for Next Week
The news is somewhat negative, with manufacturing, housing and jobs all weak, and overall economic measures mixed with falling demand. Sentiment has been crushed by the shutdown/deficit crisis, yet the markets are just off all-time highs. What's happening is typical Fed-driven perversity that has traders continuing to bid prices higher on the expectation that the market cannot fall as long as they aren't tapering. Hints of taper-such as the semi-ok GDP and relatively good claims reports on Thursday-cause big sell-offs. Good news is bad.
Of course, the reason for tapering will be improving economic numbers, and eventually the market must respond to "good news is good." Right now indecision is rampant, as traders went both ways on Thursday and Friday
Since earnings season is winding down, I expect trading to range bound, with volatile moves in the range. IWM continues to be my guide to the next down- or up-trend. The next major market mover could be retail sales news and Black Friday results, followed by Christmas shopping.
Disclosure: I have no positions in any stocks mentioned, but may initiate a long position in PJP, KRE over the next 72 hours.