Market-Moving News (Summary of 20 Articles)
Christmas spending is trending slightly better than last year. Job claims are hard to read, because of holiday hiring, but the trend of gradual improvement is continuing. A strong retail sales report showed strength across most components.
Two months into the government's fiscal year, the deficit is down 22 percent, benefiting from last year's payroll tax hike along with declines in spending including spending on defense which is down 10 percent so far in fiscal 2014.
Inflation is too low judging by import & export prices which continue to move in reverse, at minus 0.6 percent for a second straight month for import prices and at only plus 0.1 percent for export prices following a 0.6 percent decline in October. Oil prices are declining globally. The November PPI edged down 0.1 percent, following a decline of 0.2 percent in October. Low inflation could indicate a delay in Fed "tapering."
In housing, the average rate for 30-year mortgages jumped 10 basis points in the week to 4.61 percent, as mortgage and refinance applications declined.
Sentiment Metrics
TDAmeritrade's November IMX reading registered its highest since June 2011, indicating clients were increasing their equity exposure.
The small business optimism index registered 92.5 in November vs October's 91.6. Plans to increase employment and current job openings increased; however, small businesses increased employment by only 0.05 workers per firm in the month, half of the October rate.
The Bloomberg Consumer Comfort Index continued its climb this week, reaching its highest level since early October, before the partial government shutdown lowered it. Assessments consumers' finances and the buying climate are the most positive since early October.
The VIX
(click to enlarge)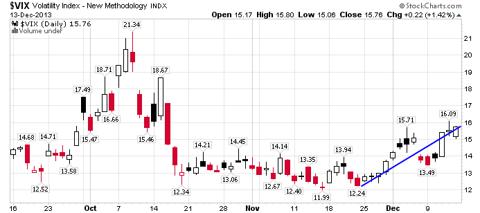 Click to enlarge
The VIX is in an uptrend that reflects anxiety over next week's Fed meeting, as institutions and individuals buy options to protect their portfolios.
The Market (S&P 500)
(click to enlarge)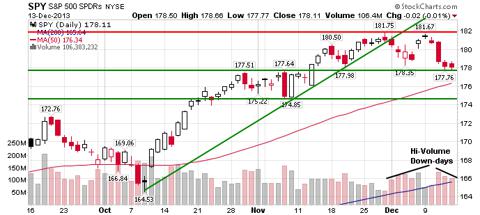 Click to enlarge
Most of my stops got hit on Tuesday, and the market took a little hit, making me feel brilliant on Wednesday! The market then found support at 177. Notice the drop in volume on the up-day, after the good employment report on the prior week. To me, this is confirmation that the market is getting ready for next week's Fed announcement.
Small Caps (NYSEARCA:IWM)
(click to enlarge)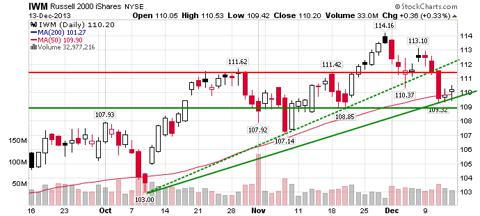 Click to enlarge
Small caps have the same pattern as the S&P 500, but it is more exaggerated and they had a stronger bounce off the 50-day moving average. On Friday, IWM was the strongest major index. Nevertheless, the prior trend was broken. The solid line shows a new trend with a lower slope that would be confirmed if the index rises and then bounces off the same line.
Core Relative Strength
(click to enlarge)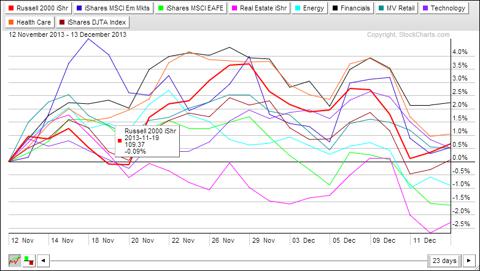 Click to enlarge
The major ETF's are all in downtrends, with real estate (NYSEARCA:IYR) continuing as the worst performer. The least worst are financials (NYSEARCA:XLF) and healthcare (NYSEARCA:XLV).
Composite Relative Strength
(click to enlarge)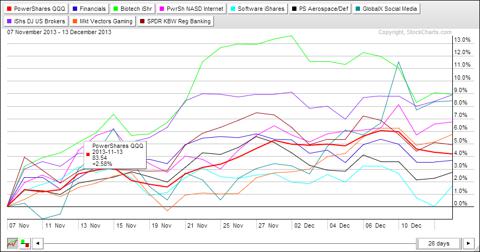 Click to enlarge
With the exception of Friday, QQQ has beaten IWM as the strongest index, so I'm still using it for the composite chart of the 36 ETF's I follow. Biotech (NASDAQ:IBB) remains the most volatile, but took a large hit in the last week. Financials (XLF) are relatively strong, and the chart is in a base with support at 21. XLF could lead the next rally. Social media (NASDAQ:SOCL) gained strength in the past two weeks, but remains very volatile.
Trades Last Week
Because I keep tight stops and most ETF's fell last week, all positions were sold, specifically PJP, XLV, QQQ, XLK, and XLF.
Conclusion and Action
The overall economic news is neither good nor bad, and the market is in wait mode for next week's Fed announcement, moving in a volatile downtrend or going sideways. If the market moves higher subsequently, my first buys will be XLF and the leading major indicator (IWM, QQQ, and SPY).
I intend to remain out until at least Wednesday, after the Fed makes an announcement. Otherwise, I will wait for the dust to settle, probably by December 19 to 23. If no opportunities present, I'll take Christmas off. With New Years in the middle of the week, I don't expect much then. The action will begin on January 6, but I'll be skiing, and stay out of the market until Jan 13, unless there is a huge rally.
During the past several years, January has been an extremely important month. There have been early sentiment shifts that led to very strong rallies or sell-offs lasting several weeks or months. In 2007 the direction was down; most of the other years, it was up. I don't really know the cause, but there seems to be significant sentiment shifting in the early weeks.
I'm guessing on a rally, once the Fed uncertainty is out of the way.
Disclosure: I have no positions in any stocks mentioned, and no plans to initiate any positions within the next 72 hours.