Market Moving News (Summary of 24 Reports)
Store sales reported weak, but the numbers don't include gift cards and online sales.
Manufacturing is mixed, with some regions declining, but national indices indicating strength. Industrial production beat forecasts on high utilities output. Durables are strong. Forecasts are hinting at higher inflation in the future.
Third quarter GDP was revised higher in a strong report. Inflation remains low, and unit labor costs declined. Consumer price inflation is soft. The U.S. current account deficit narrowed in 3Q. The surplus in services increased, while the goods deficit widened. Real GDP was revised up to 4.1% annualized, compared to the 3.6% second estimate and 2.5% in the second quarter.
Profits in the third quarter increased an annualized 10.8%, following a gain of 8.5% in the second quarter.
The home builders' housing market index shot back up 4 points to 58 to match the recovery best first posted in August, ending 3 months of slowing. The report says December's gain reflects release of demand that was held down by uncertainty tied to the government shutdown in October. The outlook for new home sales is turning higher following flat activity through much of the year, activity held down by low supply on the market, high home prices, and unattractive mortgage rates. Housing starts in November jumped 22.7% after rising 1.8% in October; the annualized level of 1.091 million units 29.6% on a year-ago basis.
The rise underway in mortgage rates is cutting off demand for mortgage applications with the Mortgage Bankers Association's composite index down 5.5% in the week for a more than 12 year low. The purchase index, down 6.0% in the week, is at its lowest level since December last year.
Demand for existing homes is down as sales fell a sharp 4.3% to a 4.900 million annual rate in November for a 4th straight month of disappointment.
The 4-week averages on claims and continuing claims is little changed from a month ago.
The Fed announced taper to start in January in measured steps--a $10 billion reduction split between Treasuries and MBSs and future moves still data dependent. The Fed left policy rates unchanged. The reduction in QE purchases is modest.
The fed funds rate likely will remain low for quite some time after QE ends-although the context was in terms of continuing beyond when the unemployment rate falls below 6.5%. Fed funds rate likely will remain low for quite some time after QE ends-although the context was in terms of continuing beyond when the unemployment rate falls below 6.5%. "Information received since the Federal Open Market Committee met in October indicates that economic activity is expanding at a moderate pace….
Sentiment Metrics
Foreign demand for US long-term securities, which had slowed through mid-year on expectations for FOMC tapering, picked back up for a second month in October.
Bloomberg Consumer Comfort Index edging back into its recovery zone for the first time since the start of the partial federal government shutdown in October.
The VIX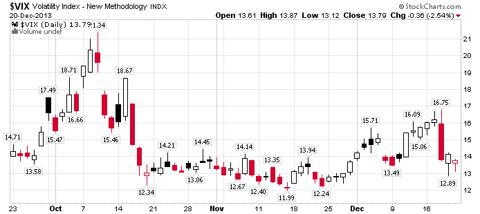 The VIX confirmed that the market was worried about "tapering," as indicated by the sharp drop when mild tapering actually happened. This appears to be another case of nothing happening, or in this case, a reversal, when everyone is expecting something specific to occur.
The Market (S&P 500)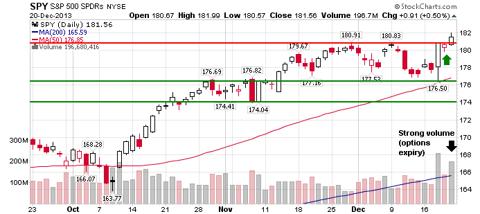 The SPY broke out of a 4-week channel to a new all-time high on Friday, after holding pricing established by Thursday's big rally. Friday's move higher was accompanied by high volume, much of which was due to options and futures expirations.
Small Caps (NYSEARCA:IWM)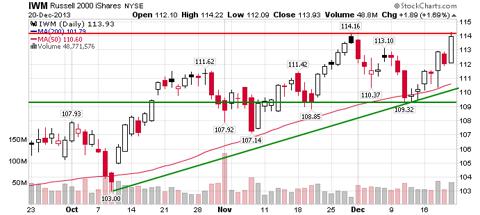 Small caps demonstrated a strong uptrend of higher highs and higher lows last week, capped by just beating a previous all-time high, intra-day. The chart shows a new uptrend at a slightly slower rate than the previous one.
Core Relative Strength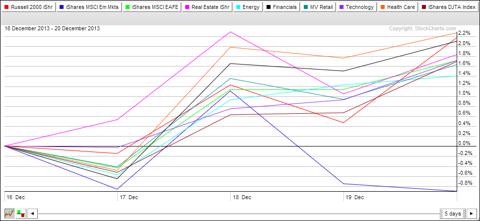 I'm showing a 5-day chart of the core sectors to get an idea of what is moving fastest, and the answer is small caps (IWM), which shot higher, crossing the lines of all but one indicator, healthcare (NYSEARCA:XLV), which goes on the buy list, because it has less volatile uptrends.
Composite Relative Strength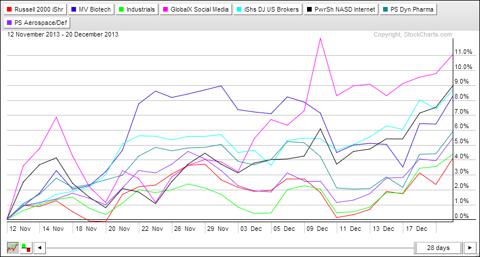 The composite is a compilation of the strongest trends among 36 ETF's, as compared with the strongest major index, which, this week, is IWM (red). Social media (NASDAQ:SOCL) is the leader, but tends to be volatile. My pick for steady gains is Internet (PNQI, black).
Trades Last Week
Two days doesn't make a trend, so I held off on Friday to see if the market would reach a new high. I bought CREE, maker of LED light bulbs and many other products to hold long term, as long as it doesn't get too volatile.
Conclusion and Action
If stocks hit new highs on Monday, I have enough evidence to jump on the trend; however the action could be light all week. On new highs, I will buy the following:
IWM, XLV, PNQI, PJP, XLI
As a trader, I will place stops below support (the equivalent of 176 on the SPY chart, 2% below Friday's close). As an investor you would consider the next lower support level (the equivalent of 174 on the SPY Chart, or 4.3% below Friday's close).
Have a great holiday week!
Disclosure: I have no positions in any stocks mentioned, but may initiate a long position in IWM, XLV, PNQI, PJP, XLI over the next 72 hours.