Market Moving News (Summary of 14 Articles)
The news remains generally positive, but provides only a moderate upward influence on the markets. A surge in the last week of December brought holiday spending close to year-ago levels. Construction spending was higher, at 5.9%, annualized, in November.
Manufacturing production slowed in December, raw material prices increased, and deliveries slowed. Inventories fell sharply. Overall manufacturing growth, however, is up from a dip in 3Q.
Home sales gained slightly in November, ending declines going back to June. Home prices are rising.
While job claims are volatile from the holidays, the 4-week average rose 8000, to a level 30,000 higher than in November. The continuing claim average is likewise higher than in November. The Gallup Job Creation index is the highest for December since 2008.
Sentiment
The Consumer Confidence index rose a strong 6 points, with employment and employment expectations improving.
Investor confidence improved in November, but is still biased toward safety. Europe is the leading component. Asian confidence slipped slightly.
The Bloomberg Consumer Comfort index had its best annual average since 2007, having rallied sharply at the end of the year, in a recovery from low numbers from the fall government shutdown. The buying climate is improving, but attitudes toward personal finances are weak.
The VIX rose to a high of 14.6 from 11.7 during the week; however there was no reaction to Thursday's falling market. The indicator isn't saying anything new about market risk.
The Market
(click to enlarge)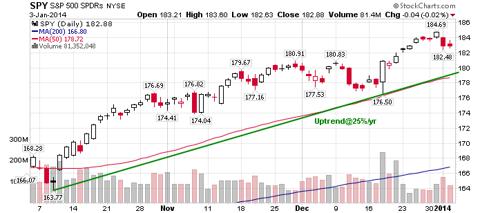 Click to enlarge
The "market," defined as the S&P 500, continues to maintain a trend of 25%/year, reflecting the extraordinary gains of 2013. Thursday's sell-off happened without any particular news influence, probably just technical corrections by institutions. January is often a time when direction changes, so I don't consider the chart to be much of a guide to market action in the next few weeks. A drop below 176 would signal a trend reversal, if the price stayed below that level.
Small Caps (NYSEARCA:IWM)
(click to enlarge)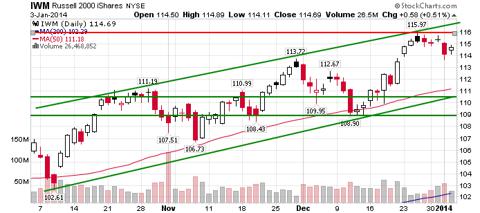 Click to enlarge
Small caps have been much more volatile, but moved up 8% over the last quarter. If the IWM drops below the 110.5, the trend will be broken, So as a long-term investor, I would place a stop there. As a trader, I am out below the low at 113.8. Most charts have similar shapes, and I would place stops at corresponding levels.
Core Relative Strength
(click to enlarge)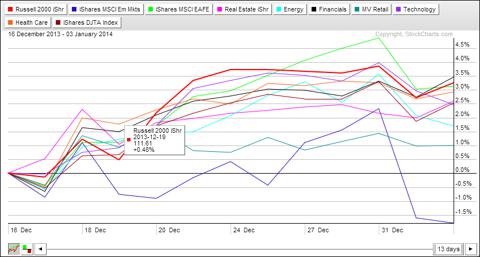 Click to enlarge
Among the major ETF's, IWM tops everything except financials, (NYSEARCA:XLE). Note the unusually sharp drop that tech (NYSEARCA:XLK) suffered on January 2, which makes me more uncertain of direction in the near future. Tech is strongly influenced by AAPL, which is in a downtrend.
Highest Relative Strength
(click to enlarge)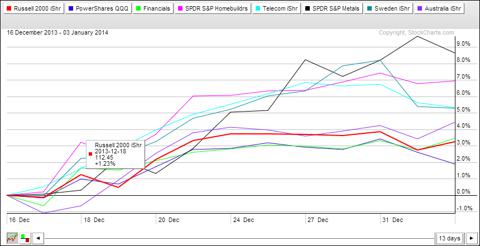 Click to enlarge
This chart compares 36 ETF's to IWM. It yielded only a few that outperformed. Metals (NYSEARCA:XME) performed the best, followed by homebuilders (NYSEARCA:XHB), then telecomm (NYSEARCA:IYZ) and Sweden (NYSEARCA:EWD). Of these, telecomm is the most attractive, but it moved into a choppy base last week. I would buy if the uptrend resumes.
Trades Last Week
Bought: QQQ, XLV, IBB
Sold: XLK, EFA, EWD, PNQI
Holding: IWM
The sharp drop on January 2 knocked me out of four positions. I had small profits and had set stops to preserve gains. I was immediately stopped out of EFA and EWD on January 2.
The problem with foreign ETF's is that the stocks can trade up or down during the European session, ahead of the corresponding ETF opening in the U.S. markets. This happened on January 2 to EFA and EWD. The EFA drop is apparent in the Core relative strength chart.
Conclusions and Action
The economy is improving and most forecasts for 2014 are positive, as are expectations for the markets. Nevertheless, January is a month for adjustments, and I am cautious in the short term. The major influence will likely be earnings, which should be okay, so my guess is that the market will establish an uptrend after some volatility.
The counterargument comes from traders who are increasingly worried that the markets are too high. The news, sentiment and charts offer no hints of the direction in the next few weeks.
Of course, politics could intervene, and I'm watching whether the next debt ceiling date becomes another crisis.
Some pundits are claiming that the best economy in the world in 2014 will be the U.S. Europe could excel as their economy recovers, but I generally favor domestic ETF's at this time, because of the gapping problem.
It's time for a break! I will be on vacation next week and will not follow the market closely or write a letter for next weekend.
Have a great week.
Disclosure: I am long IWM, XLV, QQQ.