Market-Moving News (Summary of 10 Articles)
Economic news was light this week, as the market was influenced by various excuses for a sell-off, collapsing currencies in emerging markets, negative economics from China, an IBM earnings miss, lowered future earnings guidance generally, and worries about Fed tightening.
Store spending is off due to cold weather and housing statistics are falling back; however manufacturing is continuing slow growth. None of these items are sufficiently negative to weigh on the market.
With fewer reasons to drive prices higher, investors nervous that a correction is upon us and are inclined to take profit from the 2013 run up. This sentiment change led to massive selling on Friday.
Sentiment
Consumer confidence was little changed last week at a one-month low. The index of leading economic indicators softened a bit in December, up only 0.1 percent, but follows a very strong and upwardly November at plus 1.0 percent.
The VIX
(click to enlarge)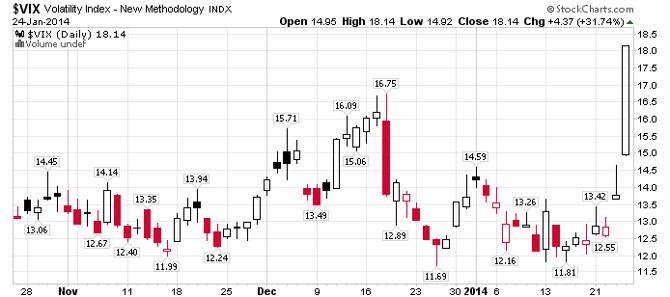 Click to enlarge
This chart illustrates why so many investors watch the VIX. In a week when the market fell sharply, Friday's sell-off generated fear and drove institutions to protect their portfolios, as illustrated by the spike to 18. If the level stays high, it will confirm that market sentiment has changed from what we saw in 2013, and reaction to news events is likely to be more extreme.
The Market (S&P 500)
(click to enlarge)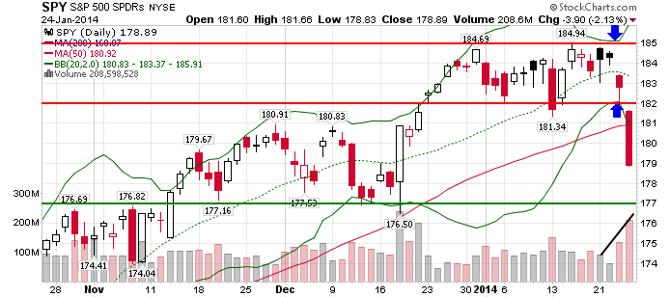 Click to enlarge
The market, defined by the S&P 500 (NYSEARCA:SPY) held up until Friday, when the gap opening and steady decline during the day took 3.9 points off the SPY and 318 points off the Dow. The major indices were off in the following order: $DJI -1.96%, QQQ -1.97%, SPY -2.13%, IWM 2.55%
Action since January 2 has suggested that the direction is no longer sharply higher, and if you had been watching the Bollinger bands, they would have given a signal in Thursday; however it might have been hard to read (I wasn't watching).
Note the large volume increases on Thursday and Friday. There is the possibility of another 1% drop before the index encounters support at 177 and another 1% if it finds support at 175. The index is 3% below its all-time high.
The 3-month trend has been broken. In order to establish a new trend, the price must bounce off a new support level, come back and test it or a higher level, and then rise above a previous high, which, as of now, is 184.5. Until then, we are in a sideways or down-trending market.
Small Caps (NYSEARCA:IWM)
(click to enlarge)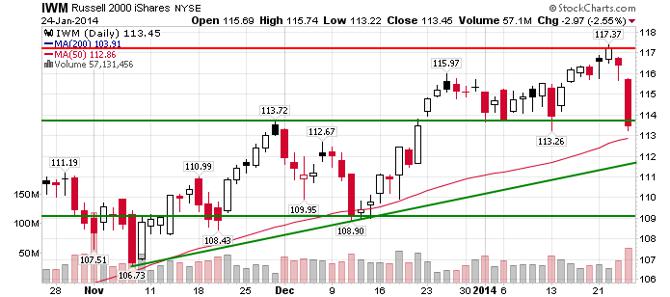 Click to enlarge
Small caps were in a complacent mode, with the chart suggesting another leg higher-until Friday, when IWM took the largest hit of the indices. The three-month trend is not yet broken and the index is dithering around support at 113. I regard this performance as relatively bullish. Nothing in the economic news was really impacting 2000 small companies. I think this action was just "herd" action of the market.
Core Relative Strength
(click to enlarge)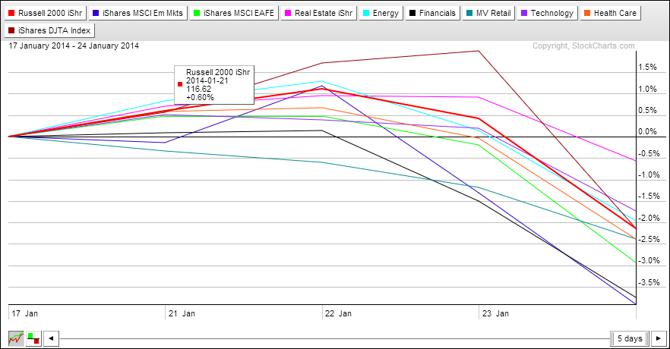 Click to enlarge
The break in short-term trend caused me to look at relative strength only in terms of what happened last week. What went down the least? Surprise! The answer is the worst performer of the past quarter, real estate (NYSEARCA:IYR). REITs have been in an uptrend as investors adjust to the idea of higher interest rates and are buying bonds. After real estate, technology (NYSEARCA:XLK) is the only sector that beat small caps.
Highest Relative Strength
(click to enlarge)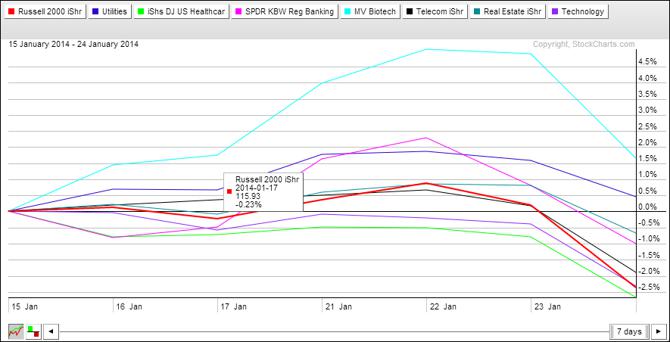 Click to enlarge
Reviewing 36 ETF's yields Biotech (IBB, BBH), tech (XLK), real estate (IYR), regional banking (NYSEARCA:KRE), and telecom (NYSEARCA:IYZ) beating IWM. I will focus on tech, biotech, and real estate, as I watch for a turnaround.
Trades Last Week
Thursday's action was sufficiently negative that I raised stops, with the result that all existing positions were sold on Thursday and Friday. I preserved small gains in most. On Friday, I took a shot at Starbucks, which had earnings and held up well, and at a mortgage REIT, AGNC, which has a huge dividend. It is recovering from a horrific 3Q and 4Q performance. These are short-term plays.
Sold: IBB, QQQ, XLV, PJP, XLF, IWM
Bought: AGNC, SBUX
Conclusion and Action
My prime directive is capital preservation, and I make decisions by absorbing news, chart action and sentiment. At the moment, I believe sentiment is changed and the market will likely move sideways and down with higher volatility. The 2013 rally is history. I expect negative conditions until traders get comfortable with China, Fed tapering, and the "bubble" in equities from last year.
I have no plans to act next week, but may make some short-term trades in specific situations, such as the AGNC and SBUX trades noted above.
Disclosure: I have no positions in any stocks mentioned, but may initiate a long position in IBB, IYR over the next 72 hours.